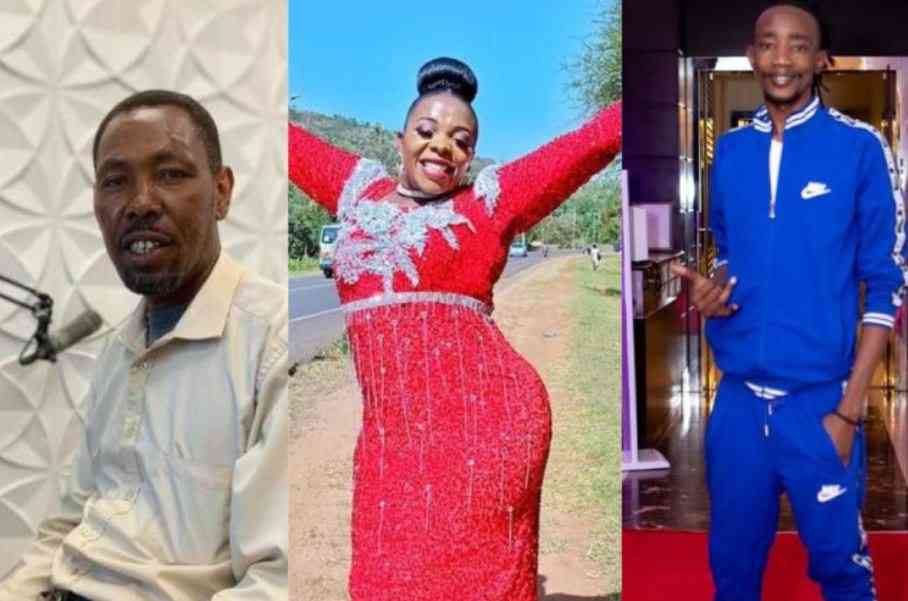 Fame comes at a cost. Once a person is famous, there is always some expectation from the masses.
Additionally, when a person becomes famous, their life changes. More often than not, famous people are admired, mostly for the flashy lives they live - real or imagined - and so it is difficult for their fans to believe that they can suffer 'common man' problems.
For this reason, when a celebrity comes out to say that they are having difficulties paying their bills, eyebrows are raised.
Indeed, the fact that some have been known to live flashy lifestyles heightens their image of success.
But the famous also cry, and sometimes even the formerly, seemingly, 'balling' celebs ask to be bailed out by their fans in their hour of need.
Former Tahidi High actor Joseph Kinuthia, popularly known as Omosh has had his fair share of struggles. Despite making Sh18,000 per episode, Omosh said he struggled to make ends meet.
In 2021, his video went viral as he pleaded for financial support from friends and family after not paying his landlord for several months, saying he was jobless. Kenyans would later come to his aid, putting their monies together to pull the actor from a dark place.
However, Omosh later claimed he received less than a million shillings from well-wishers, adding that he went broke after he used the money to settle debts. His statements rubbed Kenyans the wrong way as many accused him of taking advantage of well-wishers.
Not long ago, Nairobi Diaries actress Diana Clara Ojenge, better known as Mishi Dorah, was charged at the Kibera Law Courts with obtaining Sh152,550 credit by false pretence after drinking expensive liquor at a city restaurant.
Her friend Pendo would later take to her Instagram to help Mishy offset her bills. Pendo would come up with a hashtag, #Freemishidora.
Swaleh Mdoe, of the Tafakari ya Babu fame, kept our eyes glued on our screens and shocked many years back when he said he was going through financial challenges and that he was offering to sell one of his kidneys. "Yes, I am broke and that is a fact of life…'' part of his statement read.
And YouTubers like Kioko, Commentator, and Mungai Eve got massive views after they interviewed Manzi wa Kibera. It was thus ironic when the buxom socialite pleaded for help in December 2021.
Manzi wa Kibera said becoming famous changed her life and she could no longer live a normal life.
We all fall sick and sometimes the bill surpasses our insurance cover. In January, Mannerson Ochieng alias Akuku Danger sought help from the public when he was unwell and admitted to hospital. Together with his lover Sandra Dacha, they asked fans to help them pay what was a hefty bill.
And their fans did not disappoint. They raised Sh4.6 million to pay Akuku Dangers's medical bill.
Then there is Twendy Twendy hitmaker Justina Syokau mid-last year who told fans how hard her life was despite being famous.
In a series of Facebook posts, Justina said 2021 was a difficult year for her and that she did not have money to pay her bills despite having one of the biggest viral hits of 2020. The bubbly singer later said her friends turned against her, claiming she was cursed.
Renowned singer and songwriter Ruth Matete, who won the 2012 Tusker Project fame was doing well until the death of her Nigerian husband John Apewajoye.
Ruth Matete had allegedly gone broke after the Nigerian government detained her husband's body. Her lawyer disclosed that she did not have any money to continue paying for morgue expenses.
Taking to social media, the singer penned an emotional message to her daughter while seeking support from well-wishers to assist them during the strenuous times.
The November 2020 post was intended to commemorate her first wedding anniversary, which the couple did not get to celebrate together.
Alvan 'Love' Gatitu, a former Tusker Project Fame star, opened up about his livelihood being affected by the coronavirus pandemic. In an intense video published on his Facebook account in June 2020, the talented singer revealed that he had been kicked out of his home after defaulting on rent.
Gatitu explained that he had had to sleep in the cold after friends turned their back on him. In the video, Gatitu called on struggling celebrities not to be ashamed of their situation, adding that fame does not necessarily transmit into financial freedom. Days after appealing for help, Kenyans came to the rescue of the TikTok personality, contributing over Sh2 million.
Related Topics