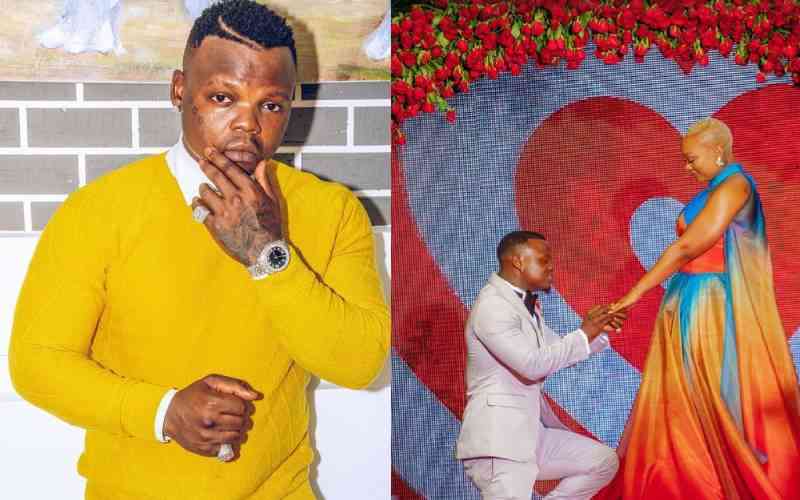 Barely weeks after he proposed to his long-term girlfriend, Tanzanian singer Harmonize has confessed that it feels like a dream. Speaking in an interview, Harmonize said the thought of Kajala becoming his wife fills him with unmeasurable joy.
"Kuna wakati mtu huamini kabisa kinachotokea kwenye maisha yako, mimi siamini kabisa kama K (Kajala) ni wangu sasa," he said.
According to him, marrying a person who truly makes you happy is the greatest gift you can ever receive as a human. The Matatizo hitmaker expressed his gratitude to God for allowing him another chance to be with the woman who he says is truly the source of his happiness.
"Mwenyezi Mungu ni mwema sana, amenisogeza karibu kabisa na mwanamke wa maisha yangu, maana nitampenda siku zote, nampenda mno furaha ya maisha yangu ipo mikononi mwake sasa," he added.
While proposing to Kajala just last week, Harmonize revealed that many people didn't know that they had known each for more than seven years. According to him, Kajala has also been his greatest support system.
"We've been friends for almost seven years, sidhani kama kuna mtu anajua hilo [I don't think any of you know this]. Tulianza kama marafiki, watu ambao wanafahamiana..." Harmonize stated.
Harmonize further announced that very few people knew of a difficult phase he went through, and only Kajala came to his rescue. He narrated that he had no place to call home when Kajala took him in and helped in keeping his secret while supporting him.
"You've been there for me in a lot of things that I cannot explain right now - ni siri kati yangu na wewe na hata mara zingine umeniambia 'don't say it in public'. There was a time I was experiencing a hard time and you even took me in, to live in your house and it's recent. I didn't have a house or even a place to sleep in... na hiyo imekuwa siri between you and I and you kept it private, hujai kuizungumzia mtu yeyote," he added.
In her acceptance speech shortly after agreeing to marry Harmonize, Kajala, who doubles up as an actress, expressed her love for him, promising a forever together.
"The worst of them is known and everyone makes mistakes, I myself am not perfect so I reasoned that if indeed I love Harmonize then I should forgive him. And all that is in the past, let's look forward into our future. I love you today, I'll love you tomorrow and forever," she said while balancing tears.
Related Topics