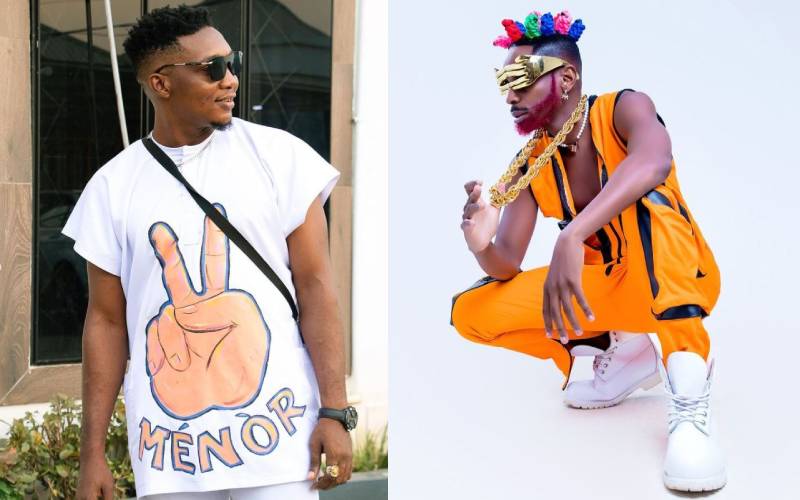 Comedian Eric Omondi has expressed his disappointment over You want to Bamba singer, Goya Menor's planned visit to the country.
According to the social media sensation, Kenyans are being taken as a joke for allowing foreign acts to continue performing in the country, adding that the trend of sidelining local artistes must end in 2022.
"This nonsense will end this year! We are becoming a joke," he wrote.
The Nigerian rapper is set to perform at B Club on January 16, 2022.
"On the 16th of January if you really want to chill with the big boys come to B Club Nairobi because I'm going to be there," said Goya.
However, this is not the first time the President of comedy Africa has expressed his fury over promoters prioritizing international artistes over local acts. He explained that he intends to push more Kenyan content consumption.
Sometime in 2021, the funny man confronted Jamaican dancehall artiste Konshens for agreeing to perform in Kenya on New Year's Eve, sidelining Kenyan artistes.
In the post, Eric had accused Kenyans of belittling their own to the point of outsourcing for talent to entertain them on New Year.
"Honestly are we doing this badly? Is the State of our music Industry really this bad? I really have nothing against International artists. My heart is profusely bleeding for our industry. You honestly want to tell me that a @khaligraph_jones @otilebrown @realshinski concert cannot pull crowds on the last day of the year. I have no problem with Konshens. My Issue is our own messaging!!! We are and have been killing our own!!! It's all in the messaging people, messaging is everything. So next week Kenyan artists will be unveiled as curtain-raisers," he complained.
The Backaz singer, in a rejoinder, explained that despite having a lineup of shows in Jamaica, he chose to perform in Kenya because of the love he has for the country.
"I had 4 offers for Dec 31st all way closer to my home and less of a hassle but I chose Kenya. Because of the raw vibe & energy… We just love your country and your people and they love us back…" said Konshens.
The comedian, too, rubbed shoulders the wrong way with Ugandan Comedienne Ann Kansiime, who confronted him for attacking Jamaican singer Kranium for tweeting 'BIG UP KENYA'.
According to Eric, Kranium's tweet meant he was planning to visit the country, and the comedian was not up for it.
"I see my Sister @kansiime256_ is very concerned about my last post. Some of my greatest performances are outside Kenya. This is Uganda and Tanzania. I would like to make it extremely clear that our fight is not against international artistes rather our fight is for Kenyan artistes. Most countries, including Uganda, have policies that protect their artistes to promote their livelihoods and business. My sister our music industry is suffering and we are just trying to fix it. That's all dear," he responded.
Related Topics