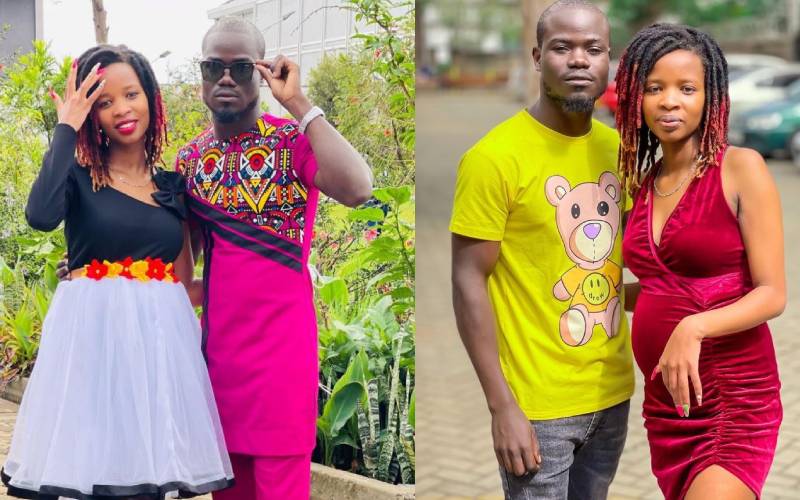 Comedian Mulamwah's girlfriend actress Carol Muthoni, popularly known to her fans as Carrol Sonie, has confirmed that they are no longer an item.
Setting the record straight on social media, the mother of one said the two amicably decided to go their separate ways after four years of dating.
"This is to make it clear that Mulamwah and I are no longer together. We have both agreed to part ways for reasons best known to us. Thank you so much for the love and support you gave us for those four years, I personally do not take it for granted," she wrote.
Sonie wished Mulamwah well in all his future endeavours before urging their fans to continue supporting them, explaining that their split does not mean the end of their careers.
"To Mulamwah, thank you so much for letting me be part of your life. I appreciate sana and I will forever treasure the memories. I wish you nothing but the best. Keep winning and God bless every step of your life.
"To my fans, thank you for the support and love that you have been showing me. May God bless each and every one of you. Allow me to be gracing your phones with amazing content; I know for sure mtapenda. Kuvunjika kwa mwiko sio mwisho wa kupika ugali, so we MOVE FORWARD and pray for a better tomorrow????," she said.
This comes hardly a week after netizens noticed the couple had unfollowed each other on their social media pages, a move that sparked breakup rumours.
Speaking to YouTuber Eve Mungai, Mulamwah opted not to comment on the matter, stating that he would soon give his fans all the information they need.
"I would not like to talk about that now. I would not like to add a comment on that. We shall definitely talk about it but not now. We shall have a sit-down, a long one," he said.
About two months ago, the couple welcomed their first child together, baby Keilah Oyando.
However, this is not the first time the celebrity couple has publicly announced they were no longer together. About a year ago, Mulamwah and Sonie went their separate ways only to reconcile a few months later and start a family.
In their first break up post, Mulamwah explained that the decision to break up was anything but easy.
"This was not an easy decision to make, especially at this point in my life. It has been a tough year already for me, and for both of us too, almost losing everything. All this happening now has been synergised and augmented by the recent 'anthology' of events best known to us," wrote Mulamwah.