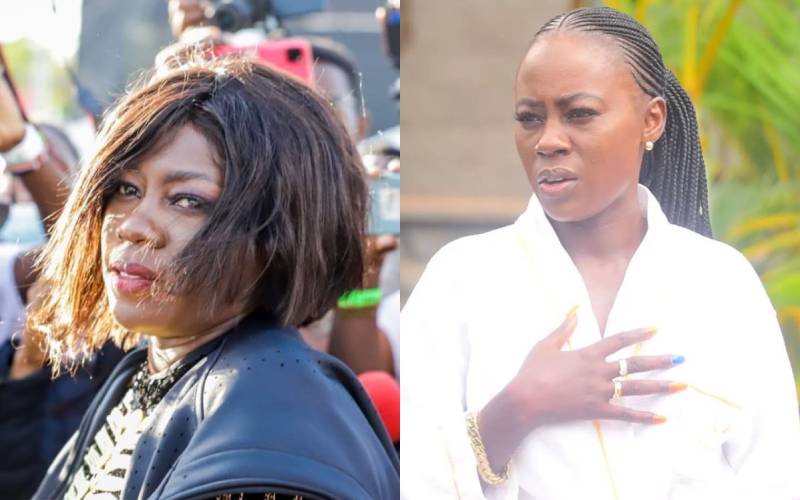 Flamboyant singer Esther Akoth, popularly known as Akothee, has explained the cause of her recent weight gain. Taking to social media, the mother of five said she is battling a health condition.
In an Instagram post, Akothee further cautioned people approaching her with the weight gain conversation, explaining that she has struggled with sleepless nights.
"Do not meet me and start telling me how fat I am, I am having a health condition, I am swollen due to struggling with sleepless nights of pain. I am afraid to go to bed for I wake up with numbness on my fingers, this situation is scary for me," she wrote.
The Abebo hitmaker added that a relative recently questioned her weight gain, insinuating that she (Akothee) was faking her condition.
"I pity one of my close relatives who said I am pretending. I still do not know what to tell her. Kwani am I in a boarding school I need permission to go home?! Or who do I even take my pity to?" she posed.
Advising netizens, Akothee urged them to always pray for those who wished them bad luck.
"I could get free time to hang around my family and not go to work! If there is anyone who wishes you bad luck it is people you take close to your heart; pray for them anyway," she wrote.
Akothee received support from fans and fellow celebs, who wished her a quick recovery and urged her to remain strong.
Nairobi Women Rep Esther Passaris commented: "Always remember in every situation Gods Got Your Back. It shall be well. Praise. Pray. Walk barefoot, connect with Mother Nature. Breathe. Start your day afresh. Claim your portion. You are beautifully made in Gods image; just the way you are."
This comes barely a week after she shared a few tips with women on the dos and don'ts of single motherhood. She said single mothers causing drama makes them appear desperate and toxic.
"Any baby mama feeling like starting trouble to inbox me! Let me tell you FACTS ABOUT this journey, you are alone by the way. The more drama you create in your motherhood journey the more desperate and toxic you look. No man wants a dramatic woman full of her exes issues. Being a single mother is not a title, it is a story of a successful journey of raising your children without the privilege of the other partner," said Akothee.
A mother, in her explanation, is a strong person with all her flaws who takes responsibility and steps up for the missing part.
"Do not brag with a one-month-old pregnancy calling yourself a single mother! Single mother of which cat? Do you know what it takes to raise a child? Forget about children! Carrying a pregnancy does not qualify you to be a mother," said Akothee.
"A mother is one strong person with all her flaws, owns up responsibility and steps up for the missing part. Women should step up and stop embarrassing some of us. Stand up and own your life/responsibility as a mother."