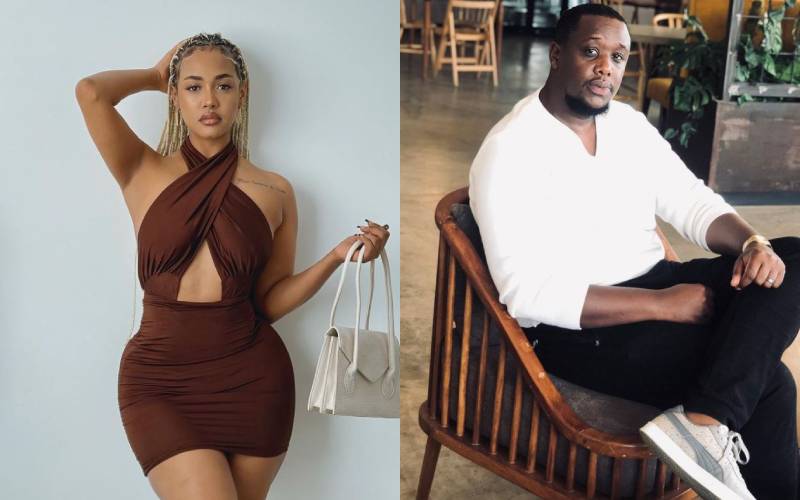 Singer Tanasha Donna is arguably one of the most successful upcoming artistes in Kenya, and her growth could be attributed to her former manager David Munyua better known as African Castro.
Speaking to Presenter Ali, Castro opened up on his relationship with the singer and put to bed rumours on their fall out.
Castro, who says he was the first to introduce Tanasha to the market, said he started working with the singer while she was still a model, and her brand flourished after a few commercial ads.
After Tanasha began her role as a radio presenter, Castro says they parted ways for a while but reconnected when the singer started dating Tanzania's Diamond Platnumz. This is after Tanasha fell out with her manager and needed someone to help her push her brand.
Castro even agreed to Tanasha's request to travel to Tanzania, and that is where the singer's singing career started taking off after several collaborations with other artistes such as Mbosso.
However, Castro says Tanasha's collaboration with Diamond 'Gere' made her gain even more popularity, making her land lucrative deals and endorsements.
Concerning their fallout, Castro said Tanasha and Diamond's break up affected many things that slowed down their momentum as the singer was greatly hurt.
The singer's former manager added that Tanasha did not seek professional help when she needed it the most, which led to them parting ways and handing her over to another management.
Clearing the air on suing Tanasha, Castro denied the rumours saying there was no personal vendetta between them. He also added that taking Tanasha to court would not help him as she is still building her brand as a singer.
Opening up on the singer's recent cosmetics surgery, Castro admitted that Tanasha always intended to do but warned her against it.
"She is talented, she has the voice, the look, I can see she has even adjusted some features and I am proud of that. She always told me she wanted to do that, something I stopped her from doing before but she did it by herself and she is now looking more glamourous," said Castro.
Asked why he was not for the idea of Tanasha enhancing her looks, Castro said he had not done enough research on the topic. He added that several people had died undergoing cosmetic surgery, and he was only looking out for the singer's well-being.
After parting ways in 2020, Tanasha came out and cleared the air as to why they separated during a Live Instagram session.
Tanasha first refuted claims that he abandoned his friend at his hour of need when Castro's father was admitted to hospital. She later clarified that they parted ways because Castro was not fit to manage him, something she claimed was a mutual understanding.
"We came to a conclusion, and it was a mutual understanding between us two. He was not really fit to manage me, something he acknowledged himself. So it was not me just coming out here and bad-mouthing him, "Oh he was not fit to manage me."
This is something he recognised himself and he said he is more into business development," said Tanasha.
African Castro is one of Kenya's leading talent managers, having worked with stars and media personalities such as Seth Gor, Shaq The Yungin, Tracy Wanjiru, Tracy Macharia, Martin Kimathi and Sean Andrews.