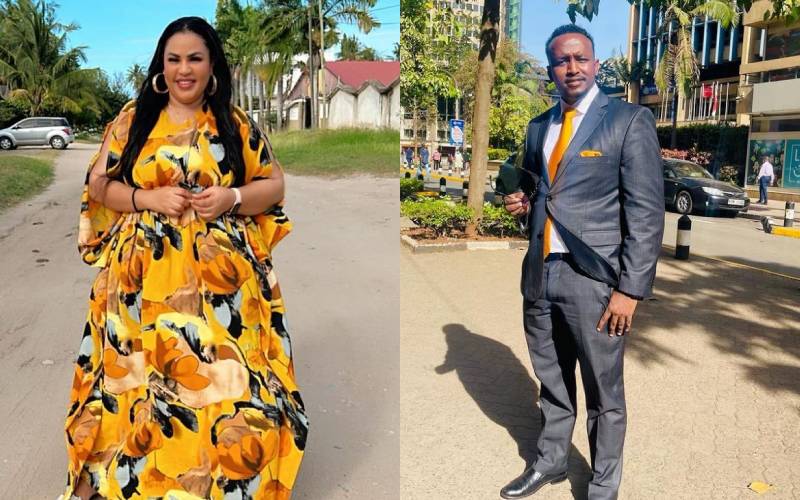 Matatu Operators Association Chairman Jamal 'Roho Safi' Marlow's marriage seems to be on the rocks once again after his wife Amira announced that she was a single mother.
Amira revealed that she was tired of being humiliated by her husband and wanted a divorce from him via an Instagram post.
"As from today, consider me a single mom. Jimal Rohosafi get that divorce paper, I'm not going to allow you to disrespect me again," she wrote.
Amira further encouraged her fans to realise their worth and gather enough strength to walk out on anything that might be holding them back. 
"On the 4th of November, I got the courage to stand up for myself. It is something that I should have done a long time ago but I didn't have the courage to. But it reaches a point where enough is enough. Today is a breaking point for me and I hope this will also give you courage to leave whatever has been holding you back. Working towards becoming a better version of myself and caring for my kids and doing my business, one step at a time," she added.
Jamal and Amira have in the recent past tried to mend their relationship after a bumpy marriage.
To put a smile on his wife's face, the businessman gifted Amira the newest iPhone, iPhone 13 Pro Max, worth Sh180,000. Overwhelmed with joy, Amira took to her social media to flaunt the expensive gift.
"They say good things happen to good people. Thank you @jimal_rohosafi. I am obsessed with my new iPhone 13 Pro Max," she wrote.
Not only that, Jamal shared videos having breakfast while enjoying his family's company before work. Amira is seen all smiles in one of the videos as she prepares food on the kitchen counter. 
According to word on the street, the couple's recent brawl might have come about after Jamal posted his ex Amber Ray on her birthday, a move that angered his wife.
The Matatu boss posted a collage of Amber's photos with the caption, "Happy Birthday, have a great celebration today @iam_amberay."
Jamal and Amber broke up a few months ago with the businessman saying there was no bad blood between them, adding that they were still friends.
"We are good friends, we still talk and do business together, but nothing in between," said Jamal.
Amber, on the other hand said that she did not regret being involved with the businessman.
"I don't regret getting involved with Jamal. As much as we have our differences, we have good memories," said the mother of one.