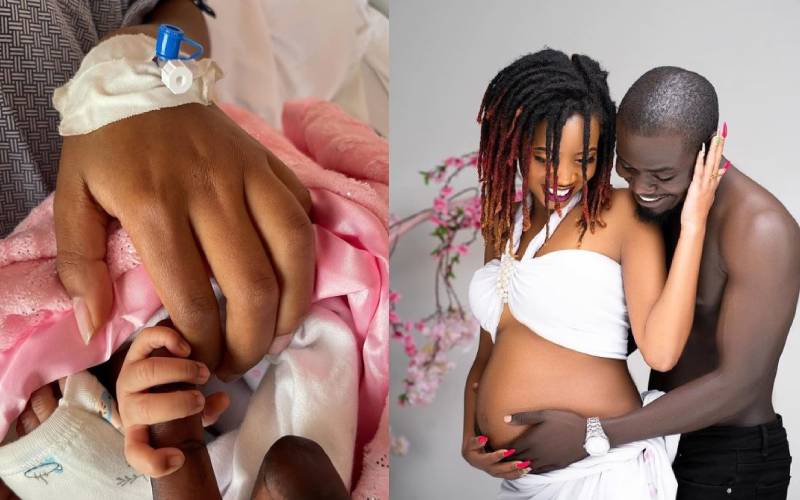 Comedian David Oyando, aka Mulamwah, and longtime girlfriend Carrol Sonie have welcomed their first child together.
Taking to his social media handles to announce the news on Monday morning, the comedian could not hide his joy after posting a photo of his girlfriend and himself holding the hand of their newborn baby.
Mulamwah termed the birth of their baby girl, Keilah Oyando, as a miracle and thanked Sonie for blessing him with the wonderful gift.
"And its a girl. A miracle just arrived … Words can't express the feeling ♥?, its the best thing to ever happen to our life, welcome sweetie @keilah_oyando . Thanks dear @carrol_sonie for this amazing gift. You are such a strong woman to pull this through despite everything we've been through," said Mulamwah while captioning the photo.
ALSO READ: Comedian Mulamwah and girlfriend expecting first child
The comedian also thanked his fans for their prayers, adding that he couldn't wait to show off his baby to the world.
"Thank you all for wishing us well and keeping us in your prayers. Asanteni sana. She is cute, can't wait for someday to show her to the world, and have a dad daughter talk. PROUD DAD I AM. All thanks to GOD," he added.
Carrol Sonie also took to her Instagram and posted a photo of herself holding the newborn and captioned, "A star was born. Introducing Our greatest masterpiece in the family @keilah_oyando. Can't wait to give you the best♥."
ALSO READ: Mulamwah's girlfriend speaks on miscarriage as he marks return to comedy
Fellow celebrities and fans took to the comment section to congratulate the couple on their baby's arrival.
Pierramakenaofficial: Congratulations!!!!!!!! Blessings on blessings.
azz_iad: Congratulations wefweee????????????????
deejay_pinto_kenya: God Bless Your Family Bro Congratulations ????
sandra_dacha: A BIIIIIIIIIIIG CONGRATULATIONS to you ????????????
theemwalimurachel: Congratulations Mulamwah! Here's to your new journey. God bless you and your family.
Bonifacemwangi: Congratulations to the newest parents in town. Welcome to parenthood. @keilah_oyando ame land kama ameshika rada. Baraka tele.
Frankie_justgymit:  congratulations kaka! Welcome to fatherhood!
Realmikewachira: Congratulations my brother on this new chapter you and your wife have entered into. May God bless your family and provide wisdom Grace patience love and presence !!