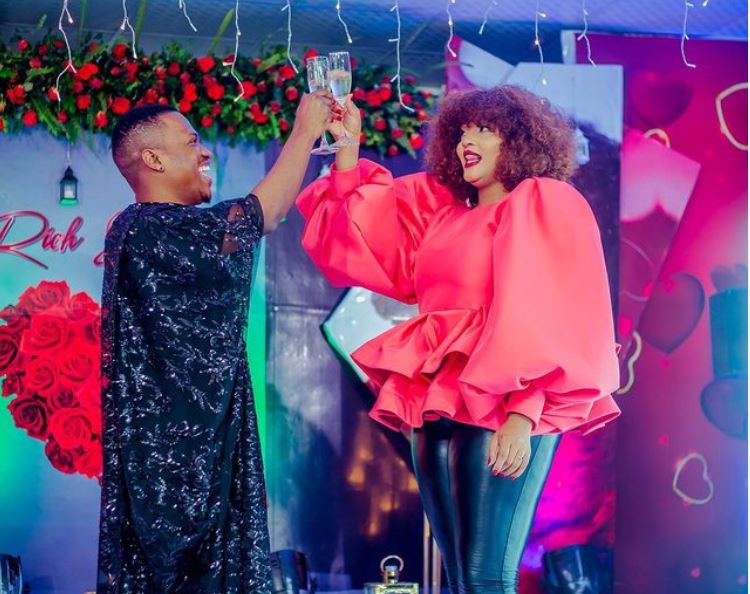 Popular Tanzanian actress Jacqueline Wolper has clarified that she did not buy her engagement ring. Taking to social media to celebrate her engagement to her baby daddy, the mother of one dismissed rumours that she staged the occasion.
Wolper further expressed her gratitude for having found what she calls true love, saying she had been praying for two things: a baby and a loving husband.
"Nothing brings greater happiness in life than being married to a man you love so much GOD has fulfilled my second wish after giving birth," she wrote in part.
Taking a swipe at the critics who camped at the comment section claiming she bought the ring and gave it to the boyfriend to propose, the actress, who doubles up as a fashion designer, reminded them that she has never been desperate when it comes to love affairs.
ALSO READ: Harmonize opens up about his past relationship with Wolper
Defending her baby daddy Rich Mitindo, Wolper further clarified that he could afford a ring that she is worth, and that's what he gave her.
"About buying myself a ring, Baba P is not a mario, he can buy a ring and I also have a reputation for being loved. He approached me first, I never befriended him," she added. 
Wolper, who was visibly emotional during the proposal, admitted she had been proposed to several times, but it felt more genuine this time around. Wolper said she genuinely loves the father of her child, and she considered herself blessed to get married to him because their child would grow up with both parents by his side.
ALSO READ: Actress Wolper confesses she's still in love with Harmonize
"The father to my baby boy has proposed to me, this is very rare nowadays because most of the times baby daddies do not want a life time commitment. This makes me so happy," she added.
Wolper and Richard welcomed their first baby in May. Announcing the news to the public, Wolper revealed that they first met in 2016, but she blew up their relationship and decided to walk away but later reconnected last year.
"We started seeing each other in 2016, I wronged him, and we went our separate ways. But he never resented me. After getting into several relationships, we met again in 2020 when both of us were single," she wrote.