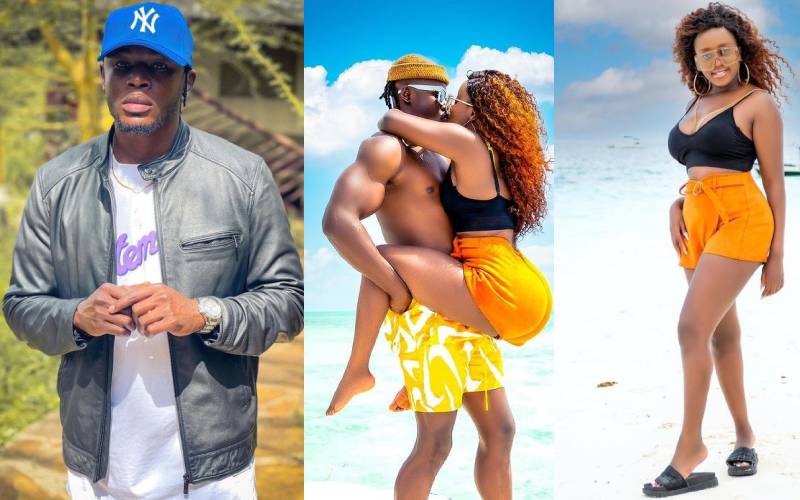 Fans have reacted after former flames Nadia Mukami and Ali Yusuf, aka Arrow Bwoy, both posted an intimate picture on social media.
In the image, the petite singer has her legs curled around Arrow Bwoy's waist, while he has her held in a lock and kiss embrace on a beach.
"My hardworking, patient, pure-hearted, handsome man," wrote Nadia, to which the Arrow Bwoy responded; "Toto si toto you are my smart, intelligent, boss lady mama Safari. My beautiful thing."
"Aki mapenzi wewe" the hilarious comments on social media started streaming in, with many torn between whether this was rekindling of the love between the two a rekindled love or the usual gimmicks before releasing a song.
"Na si unaskia utamu, this must be so blissful" commented gospel personality Holy Dave.
The Radio Love hitmakers have in the past differed about an alleged fling between them.
Nadia went first when rumour was rife that there could be more than just musical chemistry. She said: "We tried dating but it did not work."
That did not seem to go down well with Arrow Bwoy, who in a TV response said. "I respect her but let her put her focus on music."
Given the similarity of their context, it is possible that they may be duping their fans to popularise an upcoming video.
The two have been supposedly on a working trip in Neighbouring Tanzania, going by their latest posts, with Nadia Mukami also holding interviews with local stations.
Barely a week ago, the two had yet again posted a dance video popularising Arrow Bwoy's latest piece of work, 'This year'. The catch though was in their almost matching outfits captioned "vacay vibes".
However, a source close to both told Standard Entertainment that whether it is real love, an 'entanglement' situation or a video, the two had shared something that wouldn't take a lot to re-ignite back. "This weather is killing lonely and single persons."
For Nadia and Arrow, there is certainly some great friendship that would go either way. However, they respect each other's work a lot."
Nadia's fans were infuriated when she tricked them that she had found love from a man of Asian origin only, for it to be the release of yet another video.
Arrow Bwoy usually shies away from sharing details about his love life.