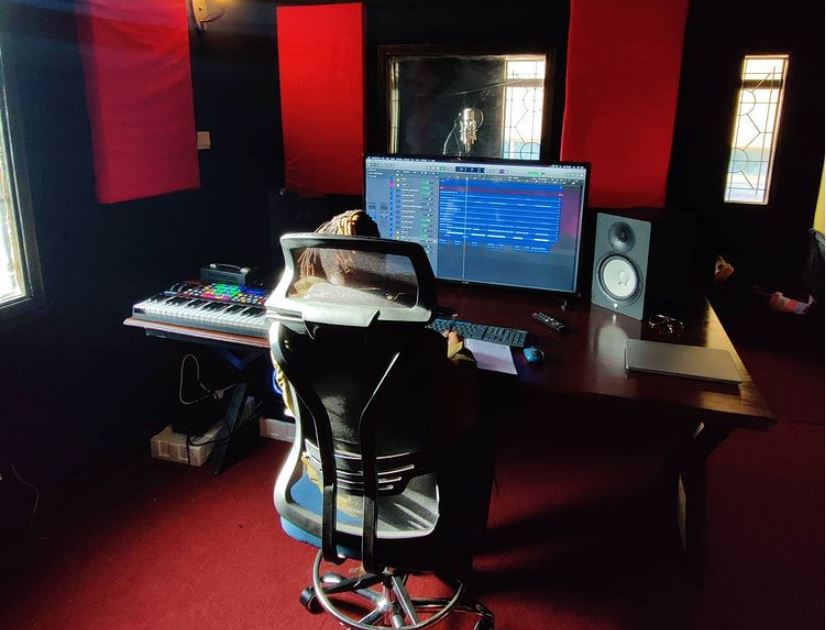 "Big risk equals big reward." These were the sentiments of Michael Mutooni aka Mykie explaining exactly what new CCN Studios based in Hurlingham, Nairobi represent. 
Formerly of Hip Hop group Camp Mulla, the artiste manager has come a long way since then to currently being co-founder of the most promising music hub in Nairobi currently, CCN Studios. 
"We are managing acts like Baraka, Munyax, and Juicemann; these are some of the names we believe will be the face of Kenyan music to the world outside of Kenya," he says of the studio's place in the contemporary music industry.
An introduction to CCN  
As we speak on an early weekday, Mykie has sampled a number of tracks recorded in the studio. The high fidelity of the sound is impeccable, but I am not fooled by the thumping studio monitors that can make any mediocre sound like a hit.
However, to be fair the music he teases me with was likable to my fresh morning ears, and there is valuable diversity. From trap to Genge, there was something for everyone.   
Even so, the label CCN's flagship music video Keja is about a week old since its release.
It is shot in a mansion in the leafy Karen area, and three rather unknown acts namely Nare, Munyax and Juiceemann are accompanied by an already buzzing recognisable musician, Boutross Munene.
He has two Platinum hits on YouTube, twice surpassing the million mark views in one year for the first time in his career.
It is a camp of brim and promise coming together poised to inject life into the music industry. 
"We were actually chilling and someone played the song, and it got made on the spot. Just pure vibes, and no overthinking," says Boutross.
Back to the video, there is a lot of designer apparel worn by the rappers, champagne being passed around, beautiful women, and the cherry on the cake. Prolific Ivan Odie directs and shoots the music video.
If anything is partial with visual director Ivan Odie, it is that his music videos are far from shoe-string budgets - indicative of the spending power of CCN.
"It cost us a car to shoot this video," says CCN co-founder John Odula aka Juiceeman, rocking a Sh100,000 Supreme rider jacket, and Sh50,000 Nike Airmax 97.
"The song is a reflection of our lives. We could not go out to the clubs anymore, and we needed to have fun. The only place to do that was the crib, that is why the song is called Keja," says Juicemann.
The song has already been placed on three Apple Music editorial playlists; New In Hip Hop, EA Wave, and The New Africa. It is trending on Audiomack and Spotify, giving it healthy rotation. 
"We had a common cause - to do music. We could see a gap in the music industry, and felt that with our capabilities individually, we could satisfy these needs collectively," says Ibrahim Ngunjiri.
"We have seen a lot of bedroom studio artistes with talent, but not that global standard sound, and we want to help them reach their potential.
The fact that we have done this during a pandemic shows you how much we believe in Kenyan music," he says.
 
The founders
Alongside former Camp Mulla henchman Mykie, Ibrahim Ngunjiri, William Wamalwa Junior, and John Odula all pooled their respective assets and formed CCN.
"John handles resources, William handles the studio management and Michael is the communications guy. I am in charge of administration, Boutross handles Creative Direction, while Musau Mumo is in charge of strategy and development," says Ibrahim.
They also have in-house producers with vast industry experience, Producer Sonic and Uzzr Music completing the stacked roster of all-males.
"We have women supporting us, they just participate in different capacities. Women play a key role in what we are trying to attain and we appreciate that," says Juicemann.
Why CCN is the label to watch out for
"It was important for us to sit down and address things we felt are stressful and take long processes to get when we can do those things for ourselves," says Ibrahim.
He says that each member has vast experience in the music industry. 
"So far we have worked with Boutross who is like family, we are in the studio with Rosa, Banana Overdose, and acts like Baraka - we are growing, and we are open to working with any artiste, both established and underground," says the label's manager William Wamalwa.
He adds, "We will be a hub for international superstars, and we can say that comfortably."