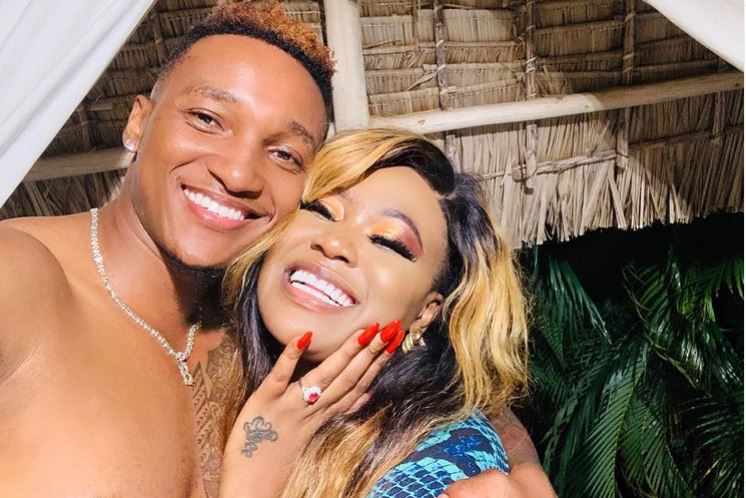 Former socialite turned businesswoman Vera Sidika has admitted that she has not had alcohol in the last one and a half years and her husband, musician Brown Mauzo his entire life.
Speaking via social media in a recently deleted post, the Veetox founder explained that she has never been a big drinker despite being pregnant. Coupled with the fact that Brown Mauzo has never tasted alcohol, Vera admitted that quitting was not hard for her.
"The last time I had alcohol was in March 2020, yup! I wasn't much of a drinker though. I'm a social drinker only when clubbing. So since Corona last year I hadn't clubbed therefore, no alcohol. Then came my hubby in August. God sent me a man that never tasted alcohol in his entire life! Which made it even easier to forget. It has been 1 and a half years now. Wow I stopped drinking way before I even got pregnant," she wrote.
The soon-to-be mother expressed her joy that their child will come into an alcohol-free family because they both don't indulge in alcohol consumption.
"Honestly I'm so proud of myself because our baby will come into a family free from alcohol. Sober mom and sober dad. God is good," she added.
Pregnancy
Vera Sidika and her husband Brown Mauzo have been the talk of town since their pregnancy announcement in June that caught many by surprise.
Before the reveal, Vera took to social media to refute claims that she was expectant after netizens noticed she was missing from social media.
"There is no pregnancy anywhere. The day I get pregnant I will personally announce it here myself and post 1 million pictures. Why should I hide just because I'm pregnant?" she wrote.
She, however, followed up a few weeks later with her pregnancy reveal.
"16.06.2021... An adventure is about to begin... I love you so much my husband @brownmauzo254," she wrote.
During Vera's gender reveal, many people questioned why the baby's father was absent, not knowing the couple had planned to use the opportunity to gain attention for Mauzo's song.
"They call you Brown Mauzo, @brownmauzo254 some with your government names: Fredrick Mtinda Kilonzo, but I prefer TINDA! You've always been and always will be my Big head, VS Spa's Husband, Shikwekwe's heartbeat, My sokwe, oh boy! The list of pet names is endless. I remember the first day we met, you said: 'I'm going to make you my wife,' in my head I was like, this dude. Little did I know we'd be here today, married and pregnant. Look at God. Soon starting our cute little family InshaAllah. God brought us together and had/has plans for us. You're so loving, genuine, kind and extremely God fearing. You have brought me closer to God and I'm glad God chose you for me. Our princess will have the BEST dad in the World and I can't wait for the beautiful daddy-daughter moments after her arrival. I love you so much Tinda. PS: Hubby dedicated this beautiful song to US: me & our unborn child," wrote Vera after the release of the song.