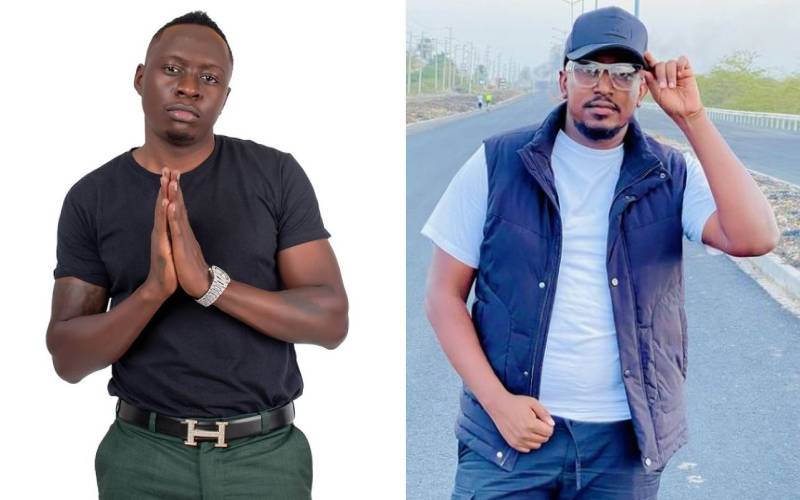 Popular comedian Oga Obinna has endorsed businessman Jamal 'Roho Safi' Marlow as the next Nairobi County Governor in the much anticipated 2022 General Election.
Heaping praise via his social media, the funny man expressed his confidence in Jamal winning the highly sought-after parliamentary seat, adding that he will end up being a top member in the government if he will not succeed.
"He will either be the next Nairobi Governor or A top seat in the Government," he wrote.
Oga Obinna advised Jamal's second wife, socialite turned businesswoman Amber Ray to stick by her husband's side as good things were bound to happen.
"@iam_amberay hold it right there," he added.
Jamal quits social media
The father of two recently deactivated his Instagram account with over 600,000 followers after countless online drama series surrounding his family.
In his explanation, his decision to quit social media was to have a private life.
"I want to be private for a while. I will be off social media and that is why I have decided to deactivate all my social media accounts," he said.
Oga Obinna was among those who commended Jamal for his bold decision, terming it as a boss move.  
"Jamal quitting social media was a Boss Move," wrote the comedian.
This comes a few days after Amber Ray dropped his name from her Instagram bio, a move that raised eyebrows among her fans.
Acknowledging the name change in a recent YouTube video, Amber avoided answering why she restored her previous bio description by sipping her wine and laughing it off.
Jamal and his two wives have been the talk of town for a while now, with netizens accusing him of not defending his first wife Amira against Amber.
Opening up to popular blogger Edgar Obare not too long ago, Amira accused Jamal of acting rich, yet he was broke and living on loans.
In retort, the seemingly annoyed Jamal admitted he had loans but was in a suitable position to pay them off.
"I owe Sh150 million in loans to a bank and another Sh80 million and another bank I owe Sh90 million. If you owe three banks that amount then you have a good income to sustain those loans. A bank is not your mother's house to check-in and they will just front you the cash. They have to look at your net worth, assets and then decide to give you a loan. People are saying I have loans. Yes, I have loans even you personally if you want a loan, just go to the bank. And I pay them well," he said.