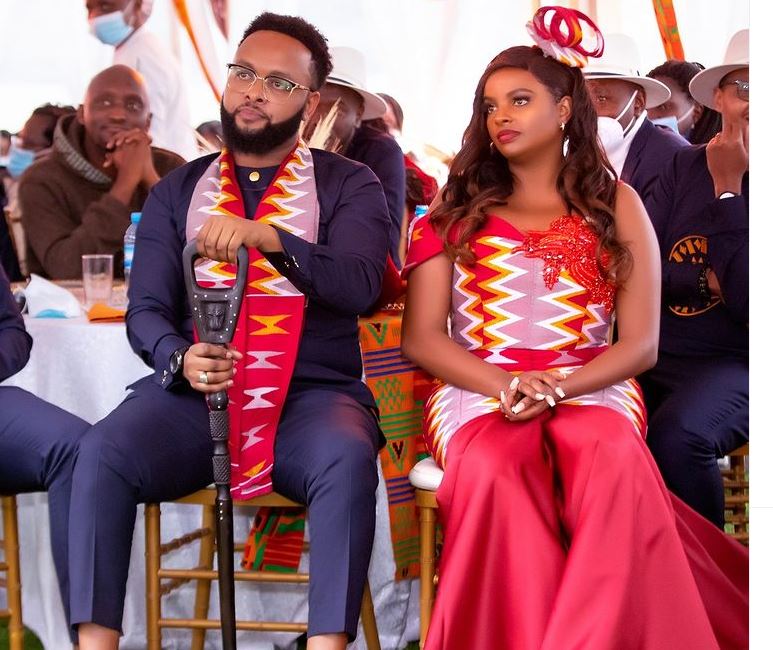 Media personality Muthoni wa Mukiri is officially off the market. This is after she shared photos of her colourful Kikuyu traditional wedding ceremony, otherwise known as ruracio, to her lover, Isaac Ngángá, on social media. Mukiri was accompanied by a star-studded lineup of celebrity bridal team comprising her close circle of media personalities.
Citizen Tv's Lillian Muli, comedian Teacher Wanjiku, Shix Kapyenga, and her sibling Nessy Mukiri were some of the bridal team members that stood with the former Inooro TV presenter in the colourful traditional ceremony.
A ruracio is a Kikuyu customary bride price ceremony where the groom and his family take a token of appreciation to the bride's home to cement their union and start the process of the actual wedding. 
Speaking exclusively to Standard entertainment, Isaac shared this loving message to his beau. "The more I get to know you, the more I'm convinced that you are the one for me. Thank you for being my partner in this love story, my anchor, and my friend." 
Little known to the public, Isaac is a long-serving manager at East African breweries who steers away from the public and media scrutiny. 
The ceremony took place at Mukiri's family home in Syokimau. The media shy groom, Isaac, said he was excited about their new chapter and was looking forward to their union. 
According to a source, wedding arrangements were set for sometime in November but a date is yet to be reached.
"Initial arrangements were to have the wedding sometime in November, however due to the numerous interruptions due to the pandemic, this may slightly change but certainly it is just a matter of time until they exchange their vows. It is no doubt they are madly in love and make a brilliant couple. They have been very supportive of each other," our source disclosed.
Various celebrities took to social media with congratulatory messages to the couple;
Reverend Natasha - May God bless your union.
Janet Mbugua - Congratulation beautiful
Mimmo Wanjuhi - mob blessings in your new chapter
Holy Dave - Congratulations stunning pal.
The two have been a favourite of many netizens when serving couple goals with their stunning outfits on social media. We wish the African couple all the best as they embark on a new journey in life.