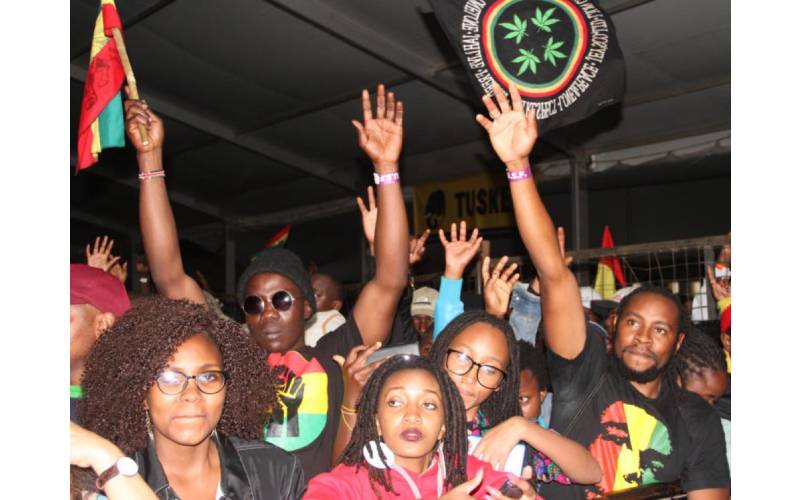 The party mood is back in the country after a one-year hiatus that was a result of the Covid-19 pandemic.
Even though we are not yet out of the woods, the excitement is high in the entertainment sector as action slowly streams back to life, with event and festival organisers giving a glimpse of good days to come.
This Friday, a high octave gig, one that pits three veteran Kenyan deejays; Pinye, Nijo, and Adrian, will be taking place at Clique Lounge – as the luxury club opens a new wing for its high-end clients.
This is the first major deejay event to take place in Kenya since the Covid-19 pandemic broke in the country in March last year.
It is also the most hyped event since the government announced the opening of clubs and restaurants as Covid-19 cases of new infections and deaths significantly dropped.
"It has been long since we had a real gig in the country, and we are glad that there is light at the end of the tunnel. The return of events means that creative economy is due to rise again and that players will soon be on their feet as they get a livelihood," said DJ Nijo as he notes that he is excited about the Friday event that has filter crowds by placing a Sh1,500 redeemable fee – as the management seeks to observe Covid-19 regulations.
Another major event dubbed Kanairo Reggae Fest 2021 that has over 20 performers participating will be taking place at Afro Sayari North Arena the same day.
Organised by leading reggae outfit Bigger Miles International Sound, this too is the biggest reggae festival to be witnessed in the country in over a year. It brings together reggae lovers with top reggae artists among them Kang Kang, Papa Nasty, Junior Dread, DJ Stano, DJ Chara, Daddy Chosh and Ken Dohty leading the park.
And after its cancellation last year, the Miss World Kenya beauty pageant has made a return with its national finals set to take place in Nairobi next month.
"The event, which did not take place last year due to the Covid-19 pandemic restrictions is now back, bigger and better," said Ashleys CEO and Franchise Director of The Mr and Miss World Kenya Terry Mungai as she hosted partners during its launch about a week ago.
The event has undergone some changes to conform to new events formation as necessitated by Covid-19 regulations. It will be recorded, showing step-by-step stages on how the contestants were picked. And migrating from its traditional setup, the ceremony will be molded to fit into a reality TV show format, one that features a niche crowd of invite-only guests.
"We want to package this event into a world-class show as that is who we are. We have always produced top beauty queens and this time round we want to do better, right from the start," said Mungai.
The CEO noted that the theme will be centred around mental health, a matter that has been illuminated all over the world with job losses and the demise of beloved ones occasioned by issues related to the Covid-19 pandemic.
The show will feature 14 episodes that will be broadcasted live around the country. For the first time, the pageant has gone green in honour of Wangari Maathai's 10th death anniversary – even as it celebrates 30 years of its existence.
"Going green means embracing a way of life that enables us to conserve the environment by reducing, reusing, and recycling items. We have committed to planting over 3,000 trees," said Mungai, confirming the global event is set to take place in December in Puerto Rico.
Among other annual events set to take place include the Zanzibar International Film Festival that kicks off on July 21 as well as the Rwanda Film Festival set for October.
Kenya will be hosting the Drum Festival in December, a major international extravaganza that will be hosted by Nakuru County.
"People have become very sensitive on how they interact in public and social gatherings; event organisers are no longer looking at hosting masses, but rather at creating events that target a niche market that can get them paying bills. We must accept that we might never have events as we used to," said veteran events organiser Chris Kirwa.