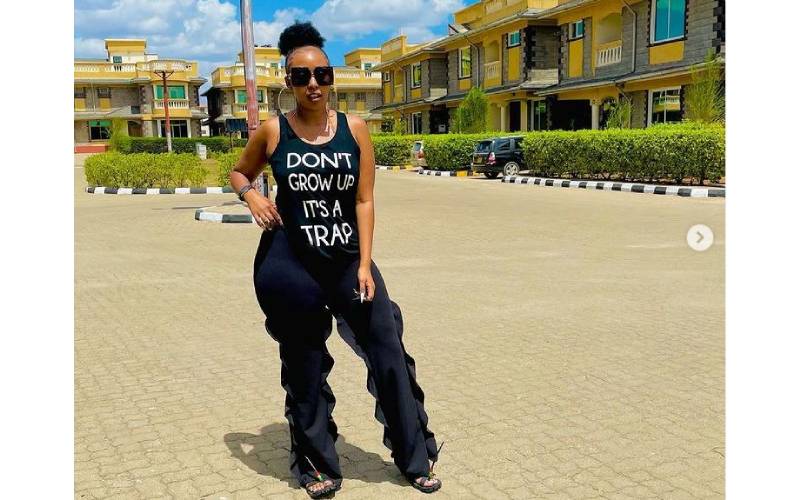 Socialite turned businesswoman Amber Ray has revealed plans to move from her residence in Syokimau to a new location over security fears.
Showing off her new soon-to-be home on Instagram, the mother of one explained that she no longer feels safe in her current residence and will be moving to protect herself and her peace of mind.
"Can't wait to move into my new home, #Miss independent. Thank you God for the journey," she wrote.
Responding to one of her fans saddened by her move, Amber admitted that deciding to move was far from easy but felt necessary.
"I knooooow, it actually hurts me to move but my peace of mind will always come first.
"I'm sorry but this place isn't safe for me anymore," she wrote.
According to her husband, Jimal, Amber had requested to move houses as soon as their relationship became public. Still, he convinced her to stay in Syokimau to allow the house he had bought her in Hurlingham undergo necessary renovations.
Although she agreed to wait, Jimal confessed that his two wives living in the same residence continually brought friction among them, straining their relationship even more.
"I am the one that found Amber in that estate to begin with. I used to live in Karen but wanted to renovate the house so I move to where I live now in Syokimau. When we sat down to talk she told me, 'Jimal I want to move because now that we are together I don't want to have any hiccup.' I persuaded her to stay in Syokimau. I bought her a house in Hurligham and told her that when it is done being fixed; the gypsum and all that, she can go there. There was abit of friction in the estate because I sometimes go to her house and other times to my first wife's house.
To bring peace to his homestead, Jimal plans to build houses for all his wives with his in the middle just like his grandfather and live like a king.
"The most interesting this is that we are Muslims and I got my courage from my grandfather. He married four wives and put his house in the middle. So all this time I've had a vision in mind like my grandfather. I buy a 10acre land in Karen and build my wives their houses with mine in the middle and be live like a king," he added.
Online brawl
Amber and her co-wife Amira's previous online brawl is suspected of adding to Amber's decision to move houses.
According to Amber, she has had to shrink herself to accommodate Amira but feels it's time she spoke up and lived her life to the fullest.
"To those that are telling me to let this matter go. I will block all of you. You guys don't know the nonsense I take every day here. Being forced to be the bigger person because someone is constantly threatening to drink poison and give it to her kids too then coming to preach to you guys," wrote Amber.