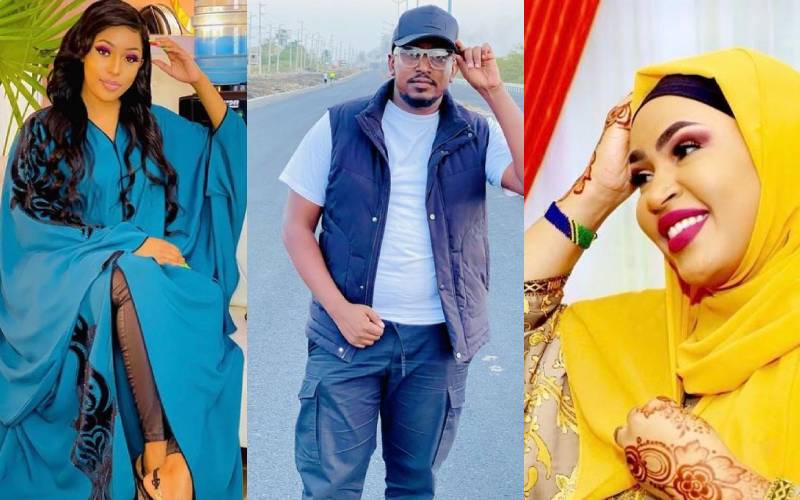 Socialite Faith Makau, popularly known as Amber Ray, has insinuated that she is more than ready to mend the strained relationship with her co-wife Amira. It all started on social media when she shared a post of food she had prepared, and her husband, Nairobi businessman Jamal 'RohoSafi' Marlow, went all out to compliment her cooking skills.
Jamal commented on Amber's cooking post, saying he was happy with both his wives. In a quick rejoinder, Amber commented, saying she is ready to spend quality time with her co-wife, adding that she is also prepared for the vacations.
"Itaweza sana" she added.
Amber's comments come barely a week after publicly accusing Amira of making her life unbearable ever since she found out about her marriage to Jamal. In a series of social media posts, Amber Ray went all out on Amira, accusing her of playing the victim in their love triangle to attract public sympathy.
In her rant, while threatening to block whoever will try to convince her to keep it to herself, Amber Ray insinuated that Amira threatens to poison herself and her kids constantly.
"To those that are telling me to let this matter go. I will block all of you. You guys don't know the nonsense I take every day here. Being forced to be the bigger person because someone is constantly threatening to drink poison and give it to her kids too then coming to preach to you guys," she said in part.
Determined to let the cat out of the bag, Amber Ray accused Amira of neglecting her children while she (Amira) was enjoying life in Dubai. She further urged Amira to accept the fact that she is the second wife. According to her, in Africa, women must share their husbands.
"Anyway, what do you expect from a woman who left her babies for 5 years to go and enjoy life in Dubai? Simply because our husband didn't have anything then. 
And again, if she is the good person why didn't she find herself a white man to marry her there since they are not polygamous? Here in Africa sharing is a must," she wrote.
A while back, Amira said that she has not yet crossed legal documents revealing that Amber and Jamal were married.
"To start, I have not seen any wedding documents yet, so I do not have a co-wife. We see them posting everything about their lives all over social media, from what they are eating, what they are dressing and even where they are, but I have not seen them posting any legal document of their wedding," Amira said.