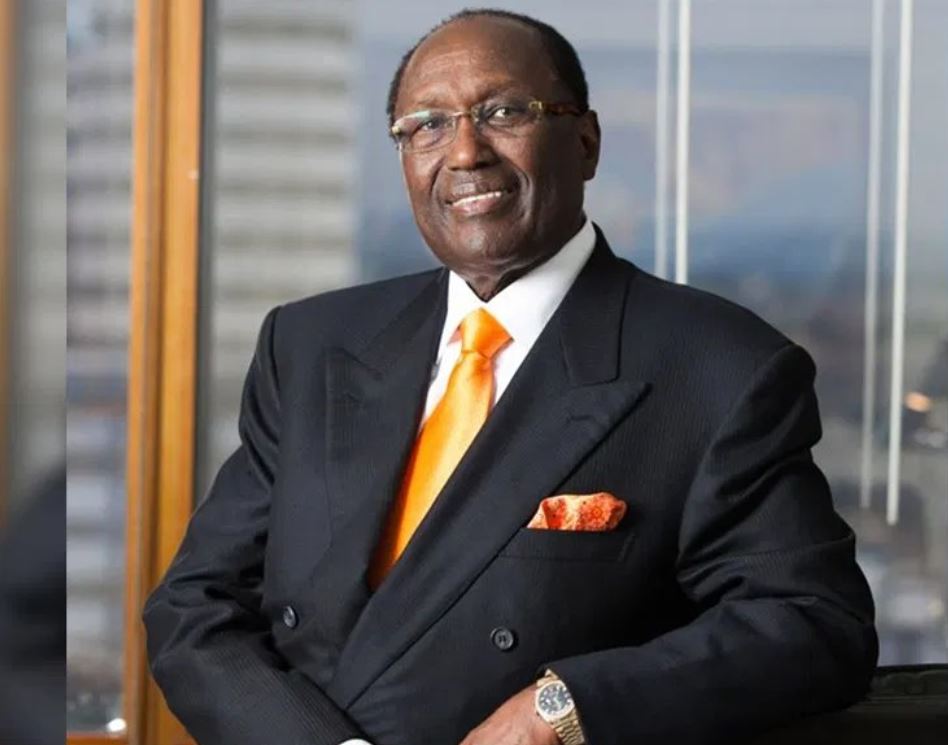 Kenyans on social media are mourning Industrialist and entrepreneur Chris Kirubi, known to his fans as DJ CK.
The business mogul died aged 80 after a long battle with cancer, his family confirmed.
Taking to Twitter, Kenyans poured their messages of condolences, with most praising him for his famous quotes and words of wisdom during his #AskKirubi sessions on the social media platform.
On Monday morning, hours before the announcement of his death, Kirubi tweeted, encouraging Kenyans on success and achievements using the #AskKirubi.
"Top of the morning to you, my dear friend. It doesn't have to be a tiring Monday. Instead, I bring to you good tidings of favour, success, achievements and happiness in the new week. Give yourself a go towards your success plan. Enjoy today and the rest of your week. #AskKirubi," tweeted Kirubi.
Here's what some Kenyans had to say about him;
Chris Kirubi, rest easy Sir.
I am a proud mentee. I will always keep your entrepreneurial teachings and most importantly, pass them on. DJ CK.
"Learn to teach" I will keep practicing that. pic.twitter.com/AxgztNxCPw — Bazenga (@BazengaaKE) June 14, 2021
Fondly called you DJ... DJ CK
Thank you for being a great boss, a powerful mentor and always a supportive friend
Rest well @CKirubipic.twitter.com/1jY7CSsqJC

— Pinky Ghelani (@pinkyghelani) June 14, 2021
Our that's thoughts and prayers are with the family of the late Chris Kirubi,
He will be remembered as a mentor through his forum #AskKirubi and industrialist who created more employments to Kenyans through entrepreneurial skills.. Rest in power DJ CK. — Alex dn. (@AlexDann17) June 14, 2021
Rest in peace DJ CK, lesson for mortals....SERVE THE HUMANITY WITH LOVE....Make life for all GOOD AND PLEASANT...
HIZI PESA TUTAZIACHA HAPA TU... — Chebii Kibet (@ChebiiKibet) June 14, 2021
Dr. Chris Kirubi (DJ CK) the founder and Chairman of Capital Group, et al, @CapitalFMKenya has lived a fulfilling life. We thank God for the gift that was #ChrisKirubi to the world and the contribution he made during his lifetime. May his soul rest in perfect peace. #AskKirubi — D.K. Wambua, Esq. ???????? (@Dennis_Kyallo1) June 14, 2021
To a man that I have admired and someone who gave so many of us opportunities. I have nothing but great and fond memories … My career kicked off at his station and his leadership and guidance has impacted so many of us… Thank you … To a great boss, leader and legend, Rest ???????????? pic.twitter.com/nQ0gQqcuAK — DJ Joe Mfalme (@DjJoeMfalme) June 14, 2021
Rest in peace Chairman Dj CK. A great entreprenuer and a real hustler with big vision????????????? pic.twitter.com/D4D1dxRyL4 — Edgar Mwampinge (@mwampinge) June 14, 2021
May God grant family of Chris Kirubi strength to bear the loss. May his soul rest in eternal peace. You fought your battle. Fare thee well DJ CK. — Karani Mutonga (@Karanimutonga) June 14, 2021
We've lost a great person!!
A motivator!!

Go well DJ CK
our prayers and condolences to family, and friends of Chris Kirubi ????????????

credit. pic.twitter.com/sJn8M9SLWe — Domie (@domiethedj) June 14, 2021
Chris Kirubi AkA DJ CK will be remembered for saying...

"I dont do business with the government... Just do Honest legitimate business and you will be wealthy like me"

RIP Chris Kirubi pic.twitter.com/sJizLlLxss — S.N. Nyamao ???????? (@snnyamao) June 14, 2021
Very shocking to learn the death of Chris Kirubi alias DJ CK. He inspired very many people in venturing into business. A true nationalist who valued creation of wealthy. On behalf of the people of Borabu and Nyamira, I convey my sincere condolences to his family. pic.twitter.com/v5GNeV3zV9 — Hon. Ben Momanyi (@Honbenmomanyi) June 14, 2021
Sad to hear of the passing of Chris Kirubi. The man is a testimony to the power of sheer commitment and focus. In his sunset days he took time to pass down some of his wisdom through inspirational tweets that I deeply resonated with. RIP DJ CK! Veni vidi vici. pic.twitter.com/27TFJVDwS3 — Kelvin Gitonga (@TheGitonga) June 14, 2021