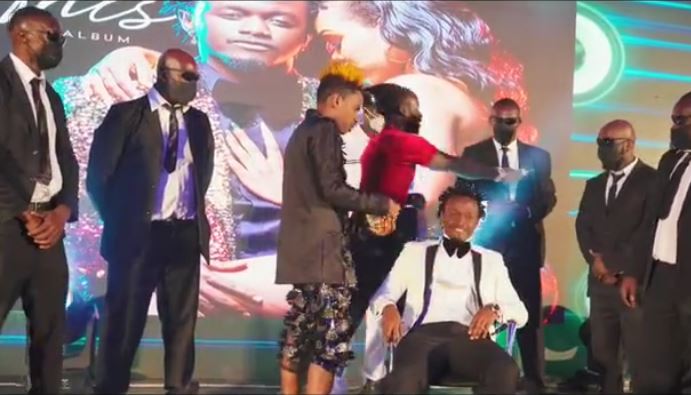 In an open show of defiance and standing with artists, comedian Eric Omondi slapped musician Bahati with Sh200,000 during the launch of his album Love like this. This follows KFCB Boss Dr. Ezekiel Mutua's announcement that they had cancelled a 200k partnership deal with the musician hours before the launch.
In his statement, Dr Mutua had stated, "We have cancelled the over 200 kshs cash and other support in kind to musician Bahati after posting videos which contravened our clean content and partnership policy."
The CEO further detailed that he was disappointed Bahati took that path despite having lengthy talks upon which the sponsorship deal was reached.
"I consider it lack of imagination for an artist to think that content has to be dirty or sexualized to sell," he went on.
Eric, who has also been in trouble with Dr Mutua, now christened 'Deputy Jesus' following the airing of his controversial "wife material" show, walked into the event accompanied by his assistant Mc Antonio, tight security, and a briefcase carrying aide de camp.
"As President of entertainment, I had to step in and reinstate the sponsorship. As creatives, sometimes we are called upon to do just that, be creative. I don't think Bahati did anything wrong. He did whatever he did to push his album and that's how he puts food on his table."
He later invited Bahati to the podium, and as he sat in the middle, Eric 'slapped' him with the cash as the excited crowd cheered him on. As emcee Jesse proceeded to collect the money, Bahati made a quick plea to his wife Diana, 'babe collect this money before it is all stolen,' as fans burst into laughter. Omondi gave the rest of the money to Diana and urged artists to support each other before walking out.