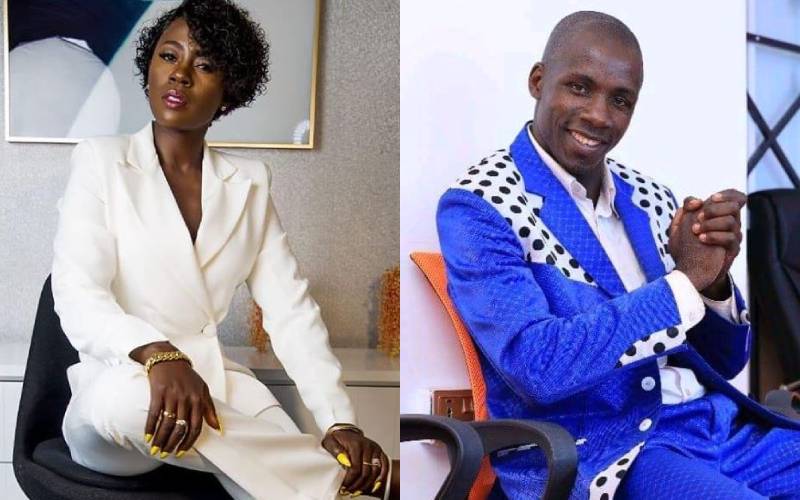 Self-proclaimed president of single mothers, Akothee has called upon her willing fans to help her understand who Embarambamba is.
According to Akothee, she has never heard of the controversial Kisii gospel singer and has completely no idea what he does.
Requesting via her Instagram, the Lotto singer stated that she rarely watches TV hence her unfamiliarity with the highly energetic artist, calling her fans to help her out.
"I learnt about Embarambamba on my comments. Who is he? Forgive me, I don't watch TV? I would like to know exactly what's going on, who is Embarambamba and what has he done. I just know that if anyone upsets Kenyans the news is normally brought to me. So what has Embarambamba done?" she wrote.
Akothee's fans quickly commented with hilarious reactions in an attempt to bring her up to speed with details of the singer's undertakings, with a few responses being beneficial while others just made fun.
Here are some of the comments from the post;
Soniamartial_: He said he will marry you
Queen_corazone: You have the same dancing style but you don't jump on trees
African_tycoon_ : He is an international artist
Ezraomosa: The best Gospel artist people love nowadays
Kerubo_rioba Kisii gospel artist who is also a dancer
Keziah_mumbi: @akotheekenya this is an individual that thrives off of clout chasing. Then he has this behavior of climbing trees and does not actually appear on TV. He is mostly on social media, Instagram to be specific. So he loves to eat mud and climb trees to get our attention. That is Embarambamba for you
Amwai_brian: He has extreme energy, we can't keep up
Mukami_wairimu: Why are you guys afraid to tell Akothee what this Kisii guy really did.
Controversial gospel singer
The Engiti singer rose to fame not too long ago after his vigorous dancing styles caught Kenyans attention.
Defending his unruly performance styles, Embarambamba revealed that he gets his guidance from the Holy Spirit, who sometimes tells him to tear his new suit and roll in the mud.
"I do it because of the power of the Holy Spirit. I know people think it's madness or bhang because they are not aware this is talent. When you see that, know it is God sending His angels to get hold of me. The Holy Spirit directs me to tear my suits, even if I go naked, God will still accept me.
"It is not madness, it is the Holy Spirit. I don't plan to do it. When I roll in the mud, it is not that I had planned it. When I'm invited to functions and events, the spirit to entertain overwhelms me," he told comedian Jalang'o.
The Kenya Film Classification Board boss, Dr. Ezekiel Mutua, has raised concerns over his safety following his blood-curdling stunts.
"Why do I feel like Embarambamba is a danger to himself and that his fans could be cheering him to self-destruction? Is this style sustainable? Is it even sane? Unless he's superhuman, this guy will hurt himself. Someone, please stop him!" he wrote.
The Kisii singer was recently forced to apologize after his raunchy dance moves with fans at a nightclub went viral due to his unruly dancing styles.