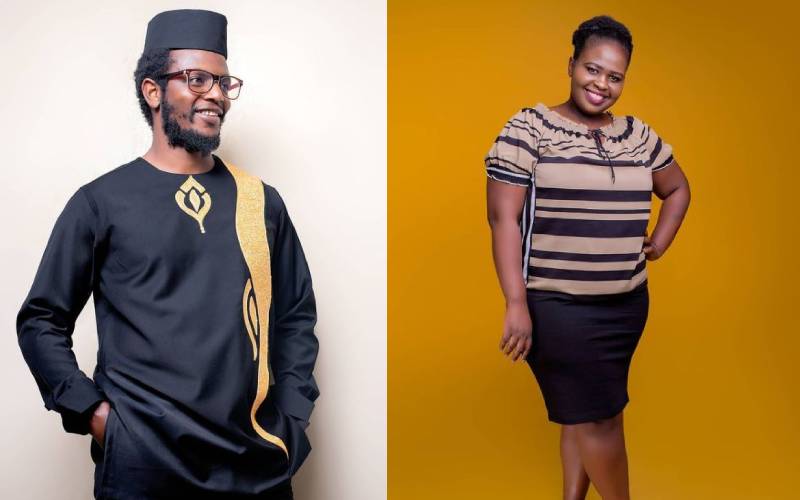 Comedian Professor Hamo has admitted he would marry his fellow comic and the mother of his children Jemutai, saying they have come a long way.
Answering questions via his Instagram stories during a Q and A session, Hamo responded to one of his fans who inquired if he would marry Jemutai as his second wife.
"Will you marry Jemutai as a second wife? I believe she's a beautiful and go-getter woman," read the question, to which Hamo responded, saying, "Yes… we have come a long way."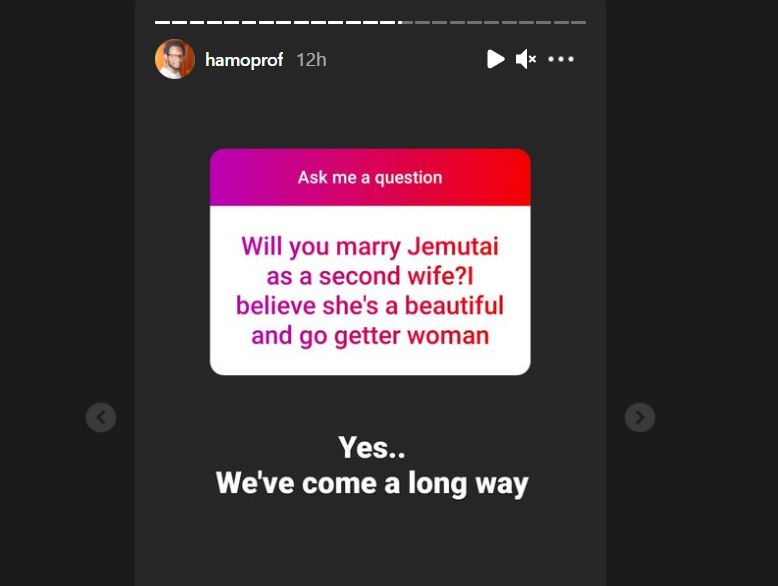 When another fan asked if they sorted things out with Jemutai following their recent social media altercations, Hamo clarified that the comedian is not just his baby mama but his wife.
"Have you sorted out your issues with your baby mama?" posed the fan.
"She is not my baby mama she's my wife, "responded Hamo.
Despite their publicized scandal, Hamo hinted it's not impossible to grow back the love, saying, "it's people who love each other that fight."
When we sought his official stand on the matter, Hamo gave us cryptic replies, suggesting that he does not want to comment on the matter but that there is light at the end of the tunnel.
Hamo's remarks come moments after Jemutai had a Q and A with her fans, where she admitted to forgiving the father of her two children.
However, the social media sensation assured her fans that she was done having babies.
"I am done having babies," said Jemutai while responding to a fan who begged her not to get pregnant again.
About a month ago, Jemutai opened up on her struggles to blogger Edgar Obare, where she claimed Hamo left her to fend for her children alone after he walked out of their lives.
At the time, Jemutai had opted to sell her Facebook account, which has over 870k followers, to try and care for her children's financial needs as she is currently unemployed. However, many fans, including Bonfire's Sarah Kabu, advised her against the move.
"It was a desperate move, I really wanted to pay my bills. As a mother I would do anything for my kids. Those who you who felt offended saying I wanted to give you over to someone else, I am so sorry. I have received a lot of phone calls from the people I know and the people I don't know personally thank you so much for your encouragements," said Jemutai.
Following Jemutai's revelation, Hamo asked for a DNA test to determine the paternity of the children they allegedly sired.
When the tests returned positive, Hamo apologized to Jemutai and his current wife and acknowledged he could have handled the situation much better.
"Apologies are made when someone realizes and owns up to their mistakes. I had to go back to family and make good with them otherwise all this would have been a facade…
"A big thank you to Jemutai for agreeing for us to sit-down and have a peaceful discussion on how we are going to raise our kids. A special thank you to Zippy you still accommodated me despite my shortcomings," he wrote.