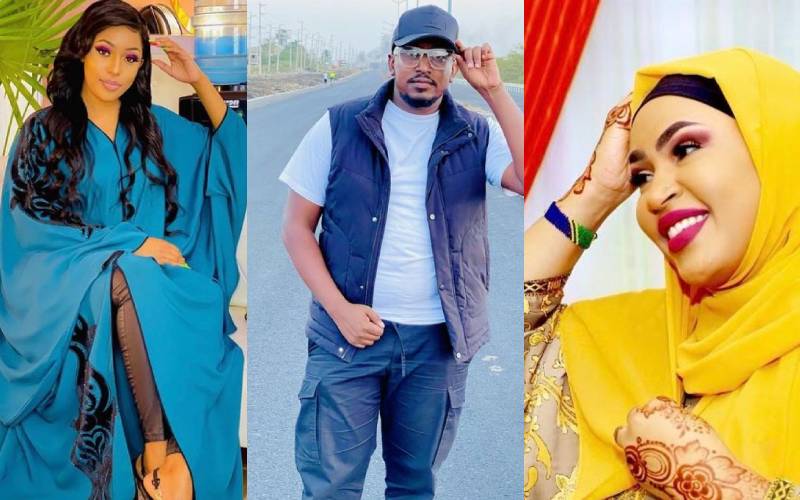 Businessman Jamal Roho Safi's first wife Amira, popularly known as Being Amira on social media, has opened up on how she found out socialite Amber Ray was her co-wife.
Speaking during an interview on Radio Jambo, Amira admitted that she came to know Amber and Jamal were getting married via social media like everyone else.
Despite her religion allowing her husband to marry several wives, Amira said the news disheartened her as Jamal did not inform her of his plans to marry Amber.
"According to the religion, ukiwa unaenda kuoa mke wa pili, unafaa ujulishe mke wako wa kwanza. So, kama kitu hujaambiwa… anaenda kuoa ama nini, siwezi nikaichukulia sawa. Sio sawa kwangu na haitawahi kua sawa," said Amira.
Asked whether she confronted Jamal for not informing her about his decision to marry a second wife, Amira hesitated, saying she would rather not talk about the issue.
However, Amira said she's now happy, unlike when she first found out about Jamal and Amber's relationship.
Speaking in an Interview with Comedian Jalang'o, Jamal said he thought of ways to approach his wife concerning his relationship with Amber but was surpassed by an expose' done by blogger Edgar Obare.
"Amber was very difficult to approach because she did not believe in being a second wife, but I convinced her using my charm. My wife, on the other hand, is a very soft-spoken woman. When she noticed my friendship with Amber was advancing, she sat me down and asked me about it, but I played it down to buy me more time so that I can plan on how I will break the news to her, but my relationship with Amber got exposed on Edgar Obare's blog forcing me to come up with a plan sooner," he said.
Jamal admitted his first wife got upset with him despite apologizing and even spent a week without talking to each other.
"I apologized to my wife and admitted that Amber and I were actually more than friends. As usual, you know the nature of women; she didn't want to share me with anyone. So she got upset, argued, and we ended up not talking for close to a week, and my family had to come in," he added.