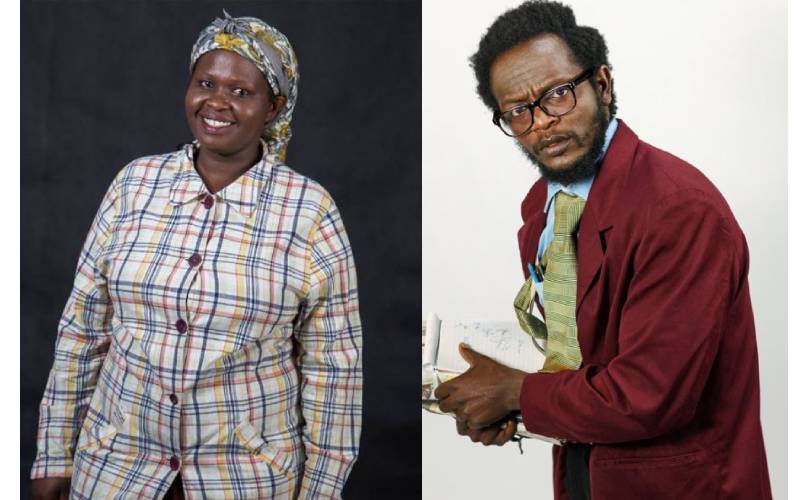 Comedian Hamo The Professor has responded to claims that he does not support his children. Denying the allegations made by fellow comedian Stella Bunei popularly known as Jemutai, Hamo said he has been providing all his children with the necessary basic needs from the day they were born.
Highlighting the issue via his Facebook account, Hamo said his current wife is in charge of sending upkeep to the children who don't live with them.
"I have children who live with me and others who don't live with me. I have been providing for my children from day one and there's no day they went without food or shelter or anything they need. My wife is the one who sends upkeep for the children who don't live with us. This has been the agreement between my family and the mother of the children," wrote Hamo.
However, the comedian resisted delving deeper into the matter, saying he wouldn't want to expose his children to ridicule.
"I believe children deserve a quiet growing atmosphere and it's inhuman to expose them to ridicule from their friends in school and elsewhere by splashing their photos or their stories online. In this regard I wish to continue protecting my children by safeguarding their privacy and not engaging in any mud slinging," added Hamo.
The comedian has been forced to respond after Jemutai called him out for rejecting his kids. Opening up on her struggles to blogger Edgar Obare, Jemutai revealed she was left to fend for her children by herself after her baby daddy, Professor Hamo walked out of their lives.
According to her, selling her Facebook account was her last resort in caring for her children's financial needs as she is currently unemployed.
"My name is Jemutai and I am comedian and a mother of two. I am a single mother and life is becoming even harder every day. I have lots of rent arrears. I have no other choice so I am selling my Facebook account to anyone in business, it has over 850K followers…it goes for 2Bob per follower. I want to be able to start business and take care of my kids," Jemutai claimed in a social media post.
Soon after her story came out, several social media users took to her comment section to show their support with words of encouragement. Bonfire Adventures managing director Sarah Kabu even advised her against selling her account, saying she could a lot with it with proper planning and exposure.
"It was a desperate move, I really wanted to pay my bills. As a mother I would do anything for my kids. Those who you who felt offended saying I wanted to give you over to someone else, I am so sorry. I have received a lot of phone calls from the people I know and the people I don't know personally thank you so much for your encouragements. Guys we are not going anywhere," she added.