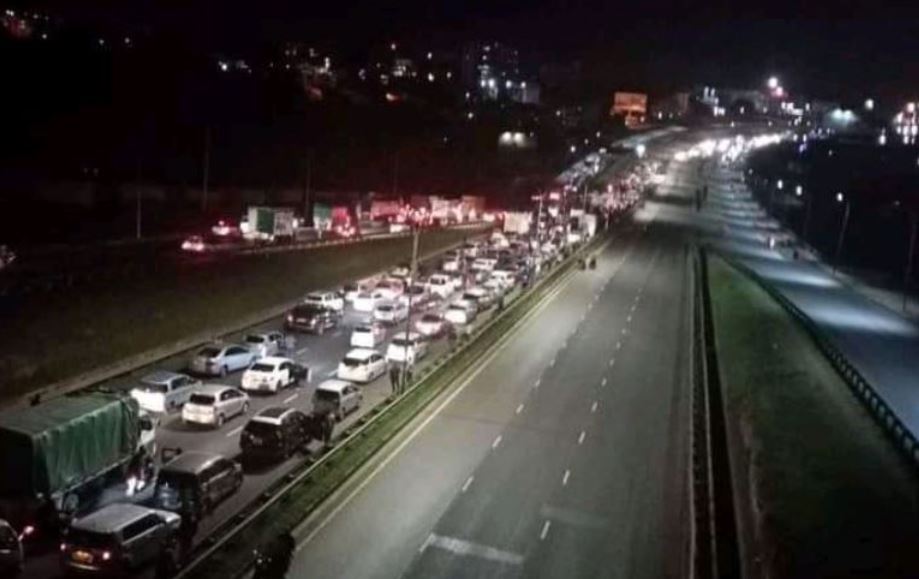 On Saturday evening, 17 April, Kenyans plying the Thika Road route were left stranded following a roadblock by police officers enforcing the 8 pm curfew.
According to videos and photos shared on social media, most Kenyans caught up in the roadblock expressed their frustrations as the police had earlier informed them that the road would be open when curfew elapses at 4 am.
HAPPENING NOW: Curfew enforcement exercise by the police leaves motorists stranded along Thika Road. Some essential services providers such as ambulances having a hard time maneuvering through the snarl up.

Video by Gloria Milimo, The Standard. pic.twitter.com/akTTni9ORX — The Standard Digital (@StandardKenya) April 17, 2021
Following the incident, media personality Jalang'o took to Instagram to lament the situation saying 'enough is enough.'
In a lengthy post, seemingly addressed to the president, Jalang'o stated that blocking roads won't help in reducing the spread of COVID-19. He added that most Kenyans are hustlers who work last minute to earn extra coins and still beat the 8 pm curfew.
"So Mr. President announces an 8pm curfew and we accept but as we rush to beat the curfew time the roads are blocked!! In that traffic, there are essential services providers, we have sick people we have people who are honestly just going home but have been caught off guard!
"What does blocking the roads help in reducing corona? Do you even care that these people you are blocking to go home are out here husting to have your salaries paid? Do you know without them paying taxes you would not have your salaries that are giving you that opportunity to choose whatever you want to eat in that buffet in the middle of a pandemic!" said Jalang'o.
Rapper Khaligraph Jones also had something to say, but this time, he addressed his concerns to former Prime Minister Raila Odinga and Deputy President William Ruto.
Addressing the former PM, Khaligraph asked Raila to support Kenyans as he used to, adding that most people are tremendously suffering.
The rapper later asked the Deputy President to unlock the country as most Kenyans sleep hungry and some left homeless due to the economic strain brought by Covid-19. He even said he would campaign for Ruto in the 2022 general elections should he help the situation.