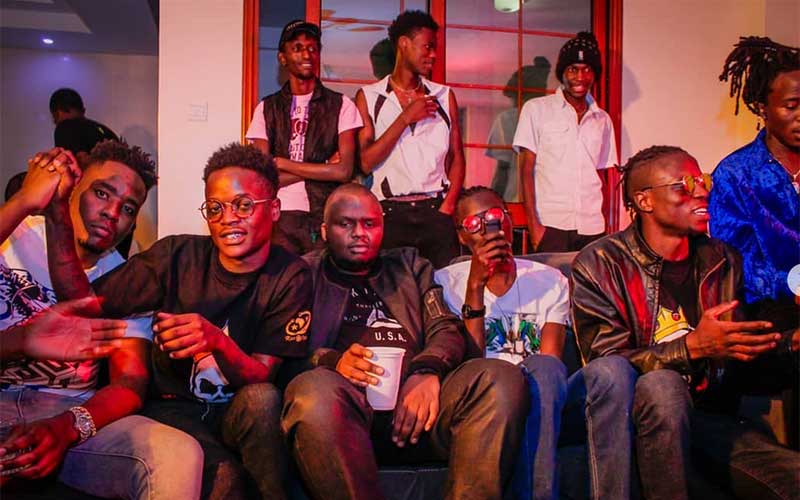 The rapidly growing Gengetone group Mbogi Genje has dropped a new featuring Mejja and Richy Haniel dubbed Wamocho. The number is a feel-good jam coded with deep Sheng making it difficult to understand the message being passed across. Being on high demand, the group decided to tag Mejja on the jam considering that every collabo he's featured in this year has ended up being a massive hit. Released on September 15, the video is doing quite well YouTube, garnering over 120,000 views.
READ ALSO: Mbogi Genje talk about the misconceptions of being gangsters
While groups such as Ethic, Ochungulo Family, Sailors and Boondocks Gang will be remembered as the pioneers of the Gengetone sound, the genre is already evolving thanks to artists such as Mbogi Genje. Just as Gengetone primarily borrowed aspects of Ogopa and Calif-era Genge and Kapuka, Mbogi Genje's take on Gengetone adds an exciting twist. The three-man group from Umoja consisting of Smady Tingz, Guzman and Militan shot to the limelight towards the end of 2019 with Ngumi Mbwegze.
The raw video devoid of vixens made it clear this wasn't your average Gengetone group out to make hits about partying and sex. They followed it up with Kidungi, with Militan's deep Sheng standing out on this one. Described by some as Gengetone's DJ Khaled, VDJ Jones then linked up with Mbogi Genje for Kamkoba in early in 2020.