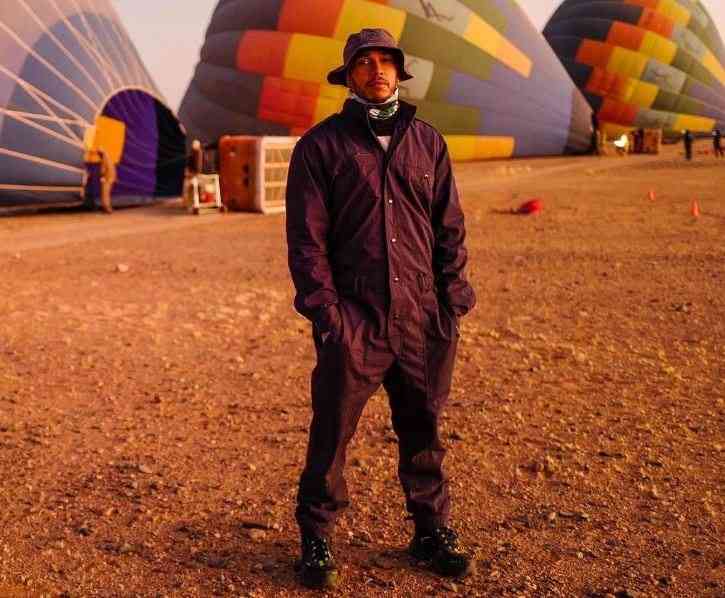 Sensational Formula 1 driver Lewis Hamilton momentarily put aside his racing gear for sunglasses and binoculars as he watched the world-famous wildebeest migration in Masai Mara.
Hamilton, 37, who arrived in Kenya on Sunday in a private jet made Kenya his second African country to visit after a memorable tour of Namibia where he stated that words and pictures could not do justice to the continent's beauty.
In an emotional post on his Instagram page, Hamilton said he was on the continent to spend his summer break doing something he had wanted to do for years.
"I am finally tracing my roots through Africa and guys, to say this journey has been a grounding experience is an understatement. This has been a life-changing reset," he wrote in a post that has been viewed by more than a million people globally.
Photos of Hamilton show him in a relaxed mood as he walks on the famed sand dunes and posing next to a hot air balloon landing site. He is also photographed riding a quadbike in a Balenciaga jacket.
However, details about his stay in Masai Mara remained scanty, as was his brief airport transfer where he declined photo requests from fans.
While he stated that the ride on a hot air balloon was surreal, it was obvious from his post that he has a love for wild animals that roam the African plains.
"This has been a life-changing reset," he wrote of his African tour. "I feel like I have gained a new perspective on life, grown an even stronger love for animals, and became even closer with my brothers who I have shared this special journey with. Everywhere I look I am surrounded by so much beauty, and I feel truly re-centred and at peace."
View this post on Instagram
Owing to their global status, many celebrities jet in and out of the country on private holidays unannounced. Recently, former Cameroonian international footballer Samuel Eto'o was seen vacationing at the Billionaire Resort and Retreat in Malindi.
Related Topics