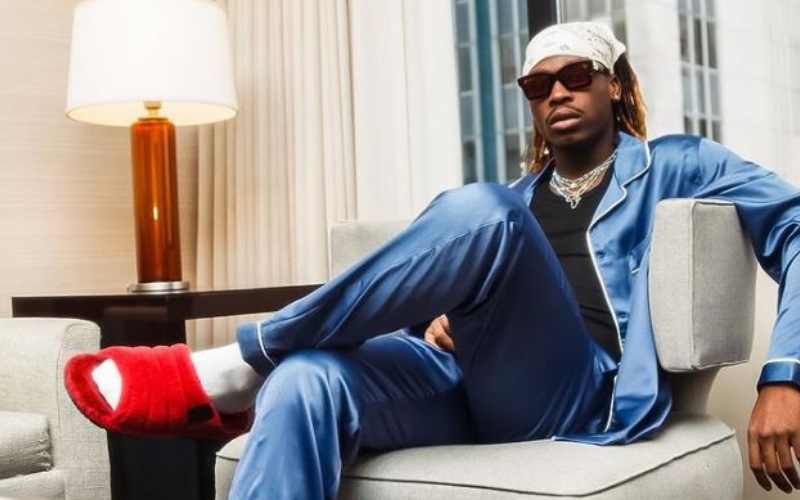 Fireboy DML is a Nigerian singer signed to YBNL Nation, a record label founded by Nigerian rapper, Olamide. His debut studio album, Laughter, Tears and Goosebumps was released in 2019, which created a launchpad for his career.
His breakthrough single, Jealous first appeared on YBNL Nation's collaborative album, YBNL Mafia Family (2018), before being re-released in 2019. The song; composed of guitar riffs, traditional drums, and percussion; captivated audiences across the continent.
At only 25, Fireboy DML has taken the industry by storm. Within the first three months of the year, he has already collaborated with household names such as Ed Sheeran and Madonna.
DML, who condensed his first name from Damola to DML is no doubt standing on the shoulders of African giants that have been putting Africa on the map, which his sound describes as 'Afro Life'.
He intimates that although the gene is Afrobeats, his version is different and unique. He believes he brings something different to the table, which by itself as a personality is why he refers his style to as 'Afro Life'.
His sound has been described as "slow-groove pop", and he is claimed to use a formulaic structure to express stories about love and the tangled sentiments that come with it. His music successfully blends African harmonies with country and soul music influences.
His first trip to the US last year was a major stepping stone in his career. After flying in from Miami and jamming in San Francisco during an impromptu, studio session, Fireboy delivered a global sensation with Peru, which later invited a remix from the UK superstar, ED Sheeran.
Apparently, Sheeran heard the song and fell in love with it. He played it on repeat for weeks until finally, he slid into DML's DM where he asked whether they could work together; the outcome, was a marvellous piece of art.
Weeks later, the Queen of Pop, Madonna came calling. Together they worked on the Sickick remix of her hit, Frozen.
"When I first met her, I expected to be starstruck, but she immediately put me at ease. She contacted me since she has been a fan since my debut album was released in 2019. We exchanged a few words. Then I went into the studio, where we discussed ideas over a WhatsApp chat before she eventually approved the verse. It felt really natural; nothing was forced, and the energy was just right," said Fireboy while speaking to Billboard.
With all that acclaim, Fireboy is in Nairobi as he is expected to jet in today for the Fireboy Live concert at Ngong Racecourse, Waterfront Park tomorrow.
The event will feature Kenya's top artistes including Nviiri the Storyteller, Bensoul, and top DJs namely Grauchi, Shinski, Moh Spice, Kym and K The DJ in a fire combo geared to keep revellers on their feet.
"We are excited to host Fireboy in Kenya for the first time and give an electric performance to our loyal consumers who are looking forward to meeting him. The artiste is also part of the ongoing Guinness campaign dubbed, 'Black Shines Brightest,' a Pan African campaign celebrating the iconic black liquid enjoyed all over the continent for over a century," said Guinness Marketing Manager, Wanjiru Murage.
While the grounds are notorious for insecurity reasons, the organisers have put their foot forward and are working on extra security personnel. "We will make Fireboy Live an unforgettable experience without compromising on security, thus ensuring a 360 experience. The security is top-notch as we have sought services of over 250 security personnel including anti-terror units," says Fomo Events representatives.
Fireboy DML has continued to rise as an Afro-pop star. The artiste has over 250 million streams worldwide, with his greatest hallmark featuring Ed Sheeran to create his latest hit, Peru.
His song, Scatter from his debut album, Laughter, Tears and Goosebumps was included in the FIFA 21 game soundtrack and his hit Champion was used by FC Bayern Munich for their 2021 UEFA Super Cup celebrations.
Related Topics