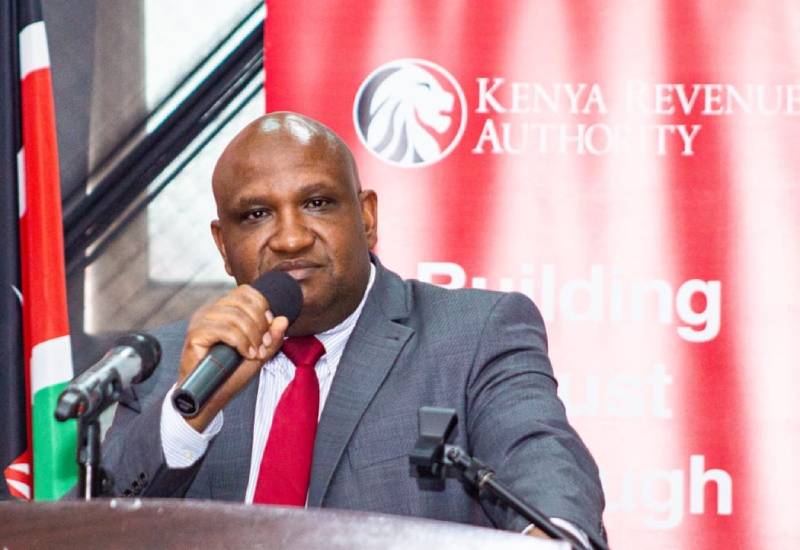 News that Kenya Revenue Authority is eyeing social media accounts to fish out tax evaders has elicited intrigue, confusion and humour.
The comedy came in the form of memes, which made rounds on social networking sites like WhatsApp and Facebook, and the confusion was clear; how would the taxman determine who is living beyond their means through posts?
The Kenya Revenue Authority (KRA) Commissioner-General Githii Mburu announced on Monday in an interview with a local publication that the agency would prowl social media streets, keeping an eye out for luxurious lifestyles including expensive cars, parties, and vacations.
"In the social media, we have some people posting some nice things. You would see some posting nice houses, cars, taking their families to nice places and so on. Here, we are not sleeping, when we see those, we see taxes," Mburu said, adding that the government agency had a dedicated team that will smoke out tax cheats.
The report said that KRA had already been using various databases in the quest to curb tax evasion. These include import records, bank statements, motor vehicle registration details, power records and water bills.
Kenyans on Twitter were quick to make fun of this news, with memes showing how quickly people would be taking down flashy posts and the tricks they would have to go through running from the officers creeping around social media.
KRA Agent: Hey guys. Vacation thread. I'll start pic.twitter.com/faIudavCqb — Ngari's Daughter. (@Marion_Ngari) November 8, 2021
"When you transfer your 18 year Glenfiddich whisky into a Konyagi bottle to trick KRA Agents on social media," one of the humorous posts created by KOT read, comparing two alcoholic beverages that differ widely in cost.
KRA officials be like: "Yule alienda event ya Omah Lay, AG, ashanunua za Konshens na Charly Black lakini alifile nil returns," another post reads, making light of Kenyans who have been attending the recent line-up of concerts by international stars.
KRA be like..... pic.twitter.com/y6CBVQ8k8t — Droid ???? (@droid254) November 8, 2021
Celebrated rapper Brian Ouko alias  Khaligraph Jones told The Standard Entertainment and Lifestyle that he has never heard of such a measure being employed to collect information for tax purposes.
"Social media is social media and real life is real life. If I shoot a music video today and I use a Lamborghini, it doesn't mean I own or can afford one that instant. If someone misinterprets posts of that nature, they completely miss the concept of the art," Khaligraph said.
Vulture, an American magazine looked at the correlation between the musical genre and high-end brands in their study, Hip-Hop and High Fashion: Unpacking the Cultural Contradiction.
"Hip-hop serves as the perfect vessel through which these icons reinvent themselves, presenting the myth of both the hustle and living large—telling a story as old as time—started from the bottom now we here. This myth is one that lends itself well to perceived exclusivity and desirability," the report reads in part.
KRG The Don, a popular DanceHall artiste, enjoys flaunting his flashy lifestyle on social media.
The artiste, real name Karuga Kimani has a glossy Instagram account that serves doses of expensive cars, designer clothes, and even clips of stacks of cold, hard cash.And he says that the move by the taxman is good. 
"Everyone on Instagram is rich. This method will tell apart those who pose for photos at their rich friend's homes, and with other people's expensive cars," he said.
"Maybe these ones living fake lifestyles will lead KRA to the real owners. The taxman can then proceed to pursue the real, rich owners of the things we see on social media."
And as Kenyans online went wild with theories, Afro-pop band Sauti Sol vocalist Bien-Aime Baraza poked humour, sending a special request to the agency.
"Please start with Eric Omondi," he wrote.
And yesterday, KRA said there has been a steady rise in the number of individual taxpayers rushing to verify their tax compliance status this week. 
"This week, we have seen a more than 60 per cent rise in the number of tax compliance certificates applications lodged on the online i-Tax platform," said KRA Deputy Commissioner in charge of Marketing and Communications Grace Wandera in a statement.
She said the adoption of technological solutions to complement traditional revenue collection tools is geared at enhanced compliance efforts that focus on ensuring taxpayers file returns and pay correct taxes.