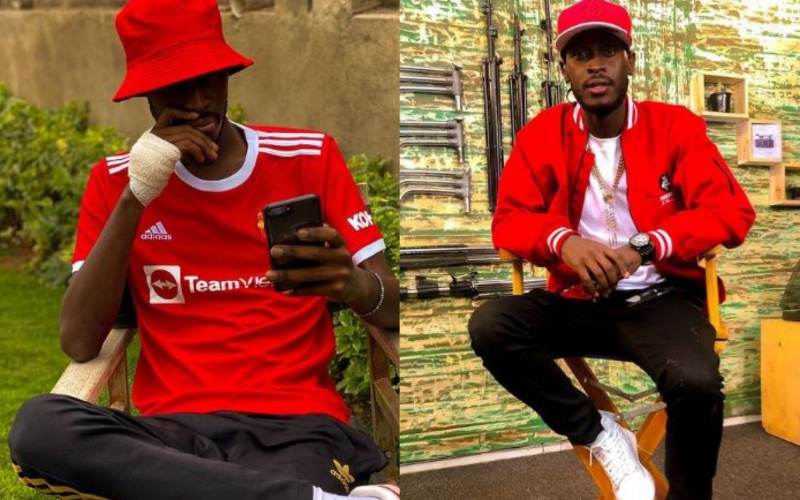 Just a week after opening up about misdiagnosis and illness that made him lose 33kgs, rapper King Kaka has shared his first photo, asking his fans to always pray for good health.
Through an Instagram post, donning Manchester United's home jersey for the 2021/2022 season, the Dundaing hitmaker added that it has not been easy to be in and out of hospital.
"Hospitali ceilings are really boring always pray for good health. Kwa sasa analyzing the possibility of Ronaldo scoring 3 goals today against Newcastle!!!" he wrote.
Despite the tough situation he has been in, King Kaka has in recent weeks expressed optimism that he will bounce back and has often thanked those who have reached out to him.
A week ago he revealed that he had been sick for over three months but was misdiagnosed.
King Kaka went into the details of how he has struggled to eat and was only taking porridge and eating fruits.
"Dear Fans, it's only right that I share this with you. I have been sick for 3 months 8 days now. I was misdiagnosed. Lost 33kgs and in the process, we started hospital visits, did all the tests and they were Negative funny thing is I feel no pain and we are still hopeful that we will get the solution soon," narrated Kaka.
The rapper went ahead and thanked his wife Nana Owiti for standing by him through the trying time.
"While I am in my final recovery stages I will show you some of the stories and how I got. I miss my kids, my wife @nanaowiti has been a great pillar through the 3 months and my mom," said King Kaka as he asked Kenyans to continue praying for him.