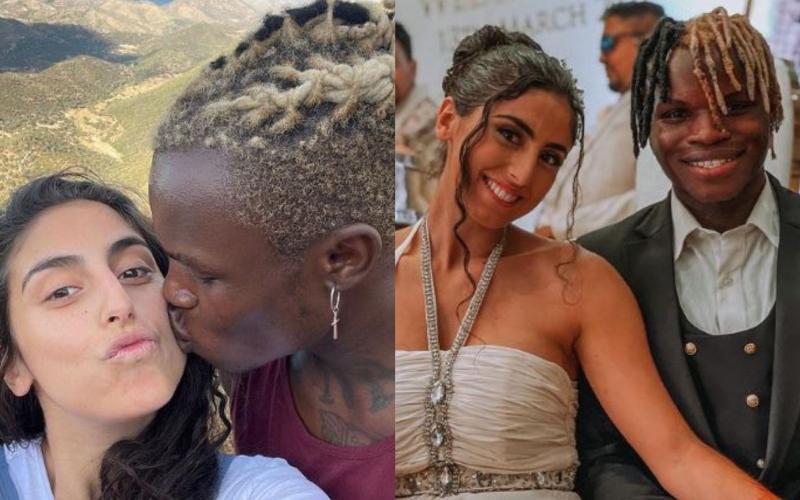 Dance couple Tileh Pacbro and his wife Martina have welcomed their first child.
The elated duo shared the news of their son's arrival with their fans on their respective social media pages with Tileh terming the intense feeling of holding Pacbro Jr in his arms for the first time as unexplainable.
"I can't explain the feeling I had when I held my little boy @pacbro.jr in my arms for the first time. The fact that @martinaglez_ is the person who will always be beside me in this journey gives immense peace and happiness, makes me feel at home yet so far away from home, thank you baby for being my warrior. Welcome to the world my son!" he wrote.
Martina on the other hand shared an adorable video of her baby's first cry followed by numerous cut-out pictures of Pacbro Jr's hands and head.
"6/9/2021. Nothing compares to this I love you more than I have loved anything before and you, @tileh_danceking_pacbro thank you for the biggest gift," she wrote.
Tileh and Martina revealed news of their expectancy about four months ago, admitting they had found out they were pregnant earlier but chose to keep the news to themselves for privacy reasons.
"I am pregnant and we have known for a while now, it was about time for us to tell the world. It has been hectic since we did find out, and honestly it can get overwhelming when you tell everyone. But this is our reality right now so why not share it? Plus the bump would have made it obvious soon. We love each other madly and are happy about this totally new experience. I expect everyone to be respectful towards Tileh and I during this pregnancy and especially towards the baby when he/she comes…" she wrote.
Giving more details on their relationship in a previous YouTube video, Martina admitted that she and Tileh had not planned for the pregnancy but were excited for their new journey. 
Not long after their pregnancy reveal, Tileh proposed to Martina and they tied the knot in an intimate wedding ceremony. 
"To Love and Peace Forever ... thanks @martinaglez. It has been a long journey, one which most of you don't and will never get to understand, there's more to come yet but it gives me peace to know she will be beside me as we walk down it! This is a responsibility I'm gladly undertaking, as we have prepared ourselves sufficiently, but some aspects of life can never be prepared for, they have to be faced presently, ready for that too! Really wanted to keep this part of my life private like I usually do with my intimate moments but I guess I have to make it public so that y'all can accord me and my future kid's mama some respect/boundaries.
The interracial couple has since relocated to Spain where they hope to grow their family and dance career.