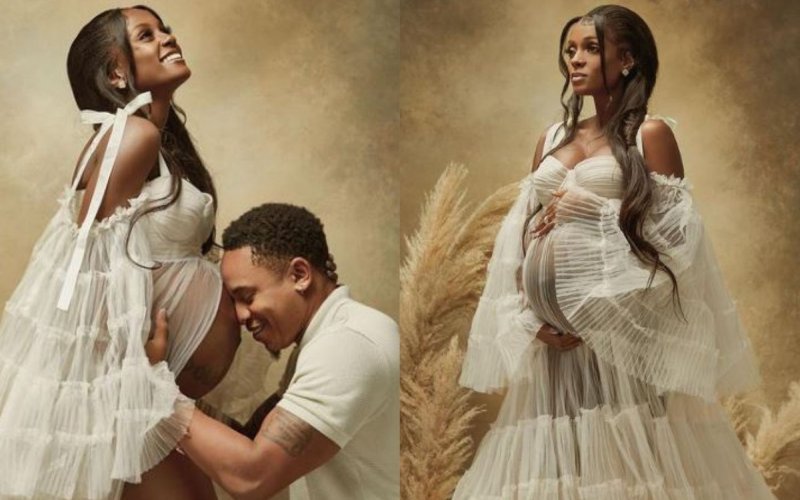 Vanessa Mdee and her fiancé, Power actor Rotimi, are expecting their first child. Through social media, the couple shared photos of a baby bump shoot as they looked forward to becoming parents.
In a recent interview, the two artistes revealed that they are expecting a baby boy.
"We are super excited to welcome our son. As first-time parents, everything about this experience has been a brand-new challenge. We love it," they said.
Sharing her pregnancy journey this far, Vanessa Mdee disclosed that it has been a smooth ride and she has not experienced any significant pain. However, she admitted that she had funny cravings from time to time.
"He's been so good to us. No real pain or symptoms. Some funny cravings and food aversions here and there," she said.
Adding: "It's been much harder in these final weeks because he's preparing his arrival, but all in all we've been super blessed," she added.
Sharing on Instagram, Vanessa termed the pregnancy as a perfect gift, expressing gratitude to God.
"The greatest gift of all, thank you Jesus for choosing us - it is a true true honor. We are overjoyed," she captioned a photo from her maternity photoshoot.
Sharing the same photo on social media, Rotimi narrated how Vanessa completely changed his life, adding that he will do whatever he can to protect her and their son.
"My greatest gift has been you. You changed my life and now we are beautifully linked forever to raise a little us. I pray our son has your glow Your heart, Your mind, and your spirit. I will protect you and our son with everything I have!" he wrote.
Speaking about their relationship, Rotimi recently revealed that they 'deleted all their love interests just six days after they met.,
"Being engaged feels like a mixture of everything. I was tired of being in the streets. I had a good time…but like I got tired of it and she just literally made me have tunnel vision. I never had that," he said adding that "I was always just moving. But that was just like slow down, this is serious. You need to respect it. Six days after we met, we went through our phones and deleted any other love interests that were there before."