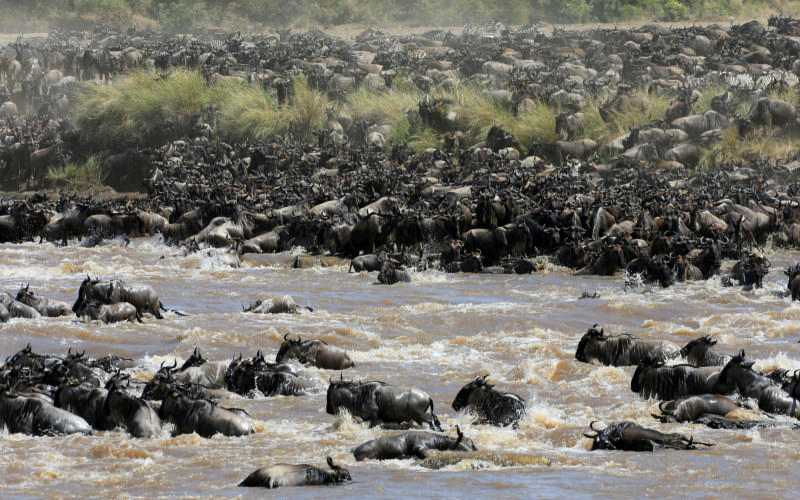 If you thought TikTok, the video-sharing social networking service is only to share your dance moves and comedy clips, think again.
In an unprecedented move, animals in Masai Mara will for the next few days showcase their wild antics on the social media platform, thanks to a collaboration between the social media platform, Kenya Tourist Board, International Fund for Animal Welfare and Conservation International.
The #GreatMigration Challenge will be showcased live on the social media's Africa platform from August 25 to August 29 from 6.30am to 8am and 10.30 am to 2pm. It aims to raise awareness around biodiversity conservation and inspire action towards wildlife protection.
The shows will not only feature wildlife footage but the lives of the local Maasai community, educational sessions from wildlife experts including those from African Wildlife Foundation and Masai Mara National Reserve.
KTB Chief Executive Officer Betty Radier said the country needs to engage the world with content and experiences from any part of the country in order to drive more awareness of the country's wildlife, especially now with limited travel due to Covid-19.
 "We are always looking for strategic collaborations to position the country as a preferred tourist destination. Kenya is a rich and diverse country, with an incredible wildlife offering which we intend to highlight and protect. KTB is keen to ensure Magical Kenya remains on top of the minds of consumers with TikTok making this possible," said Dr Radier. 
The Great Wildebeest Migration, branded as Africa's greatest wildlife manifestation, happens because of the change in seasons with millions of animals, mostly wildebeest and zebras, migrating from Tanzania's Serengeti to Kenya's Maasai Mara where the grassland is much more fertile.
The event is a daring and dangerous expedition for the animals as thousands die crossing the crocodile-infested Mara River as well as from other predator attacks.
The move is expected to generate enthusiasm from the younger generation that is more adept at using short videos to propagate a specific cause.
"The youth are pushing for action on climate change and biodiversity loss all over the world. They are the planet's biggest advocates and thus using TikTok to raise awareness of natural phenomena like the wildebeest migration and amplifying calls to protect wildlife. This campaign can be a key tool for change and is a new way to help communities appreciate the value of biodiversity and need to protect it," said Michael O'Brien-Onyeka, Africa field division senior vice president at Conservation International.