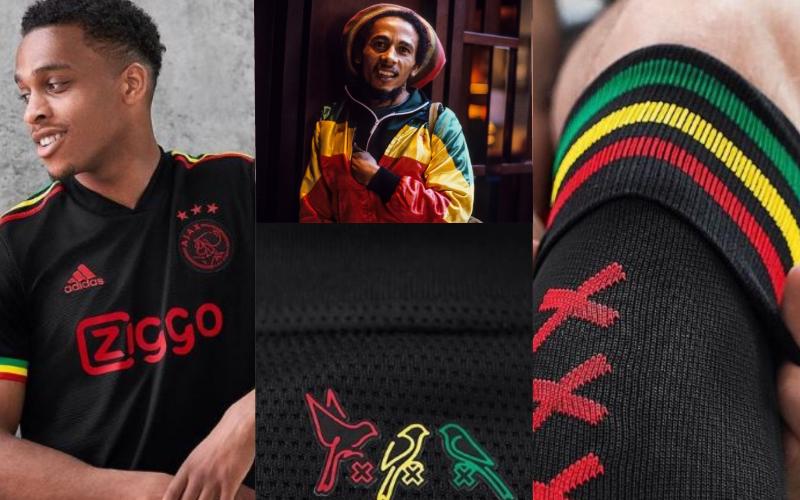 'Reggae' might have been stopped by the Court of Appeal in Kenya on Friday but in the Netherlands, Ajax have just turned up the volume.
The Dutch powerhouse, one of the country's most accomplished football clubs, this week unveiled a new third kit inspired by legendary Jamaican singer Bob Marley's iconic song 'Three Little Birds.'
Away from their traditional red and white kits, Ajax have incorporated the colours of the Jamaican flag in their latest kit which also features three little birds stitched right below the collar.
Unknown to many, the beautiful love story between Ajax supporters and Marley's song started in 2008 during a friendly in Cardiff where the song was played shortly after full time.
Ajax fans were asked to remain in their seats to avoid overcrowding at the exits and they instantly embraced the song.
Three Little Birds, recorded by Bob Marley and The Wailers in 1977, remains one of the most loved reggae songs of all time, perhaps due to its message of hope in the chorus.
"Don't worry about a thing/'Cause every little thing gonna be all right/Singin': "Don't worry about a thing/'Cause every little thing gonna be all right!"
In 2018, Bob Marley's son Ky-Mani Marley performed the song at halftime during a Champions League tie that pitted Ajax against AEK Athens at the Johan Cruyff Arena, much to the delight of the fans.
Marley's daughter Cedella told Ajax's official website: "I am beyond touched that Ajax has taken Three Little Birds and made it their anthem. Stories like this warm my heart and show how impactful songs like Three Little Birds can be.
"Soccer was everything to my father. To use his words: football is freedom."
Ajax said the song is a true symbol of hope and the fact that their fans embraced it from the word go represents their collective love for Bob Marley.
"The fans instantly embraced the song as their own and have been singing it at every game since.
"A true symbol of hope, the fans sing the song regardless of the score in the game."