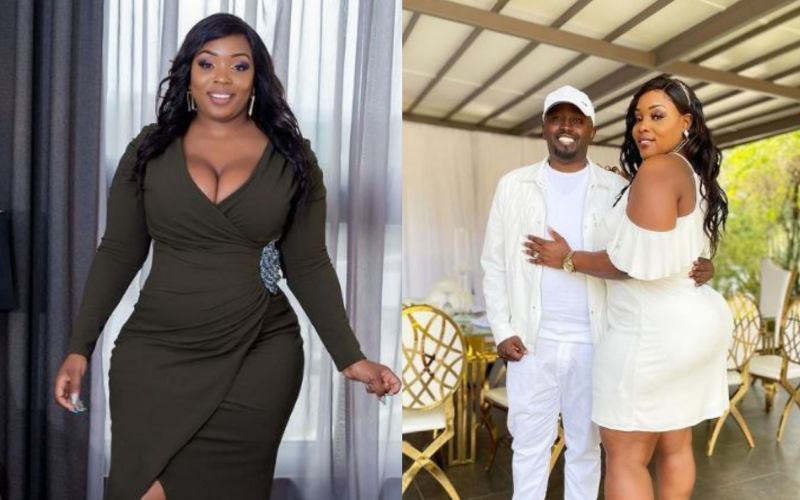 Popular Socialite Risper Faith has taken to social media to call out critics who claim that her husband, Brian Muiruri, is a nonstarter who depends on his mother. In an Instagram live feed, the mother one clarified that she runs several businesses with her husband contrary to what a section of her followers claim.
"We are living our best life. We have our businesses, our family. You talk and at night you sleep in your bedsitters as we sleep in our mansions on a six-by-six bed. I am sorry but your hateful comments won't stop me. I am from the village and I came to Nairobi to work hard and live a good life, so hata ukiongea trash nishaongelewa," she said in part.
The seemingly angry former Nairobi Diaries actress further made it clear that she has seen it all, including her nude photos being shared across social media, and there is nothing that can stop her, especially not hateful comments from people who know nothing about her.
"Hata Nudes Zangu ziko online and they did not hinder me from getting a husband. So, I don't really care. My 'cookie' is in public and you think you can scare me with your words, no. I have been there," she added.
As though bragging about her lifestyle, Risper went on to reveal that she is preparing to go through cosmetic surgery. According to her, she will have to part with Sh850,000 in order to undergo the procedure which she identified as gastric bypass surgery.
According to online sources, gastric bypass surgery is a 'technique in which the stomach is divided into a small upper pouch and a much larger lower "remnant" pouch and then the small intestine is rearranged to connect to both.'
In a sarcastic tone, Risper announced that the procedure will be fully funded by her husband with the support of his mother.
"I am past that life. I am happily married; I get what I want. In fact, I am going for gastric bypass surgery and he will pay for me. It's gonna cost 850k and he will pay for me akichangiwa na Mama yake, so what is the problem, as long as I get what I want. Niliingia Nairobi 2010," she added.
She further joked that she has used charm on her husband and death will be the only thing that can ever separate them.
"You want him by force but you are not getting him. I have used a charm on him. He is mine forever and I am not leaving him. Only death will separate us," she said.