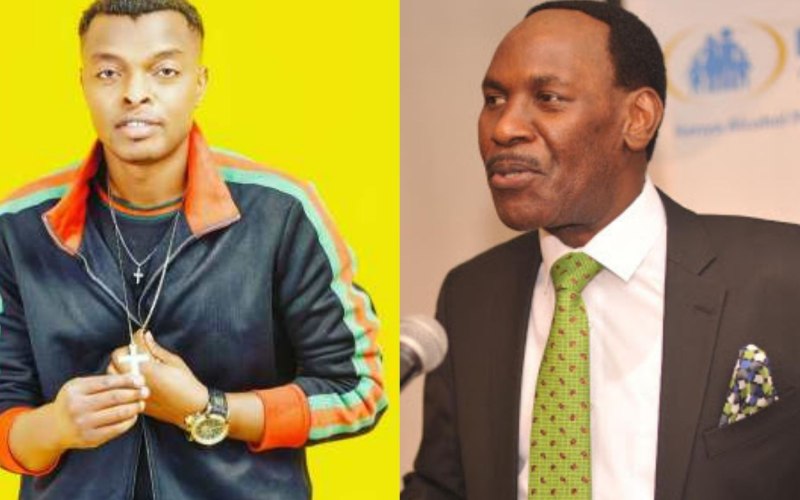 Controversial Gospel singer Ringtone Apoko is appealing to the government to reinstate troubled immediate former KFCB CEO, Dr. Ezekiel Mutua. According to Ringtone, Mutua's track record speaks for itself.
Speaking at an interview, Ringtone further claimed that Mutua is the only person capable of taming artistes who are often tempted to produce controversial content.
"I want to say it is a big mistake for the government to fire Ezekiel Mutua. Because Ezekiel Mutua is the only one who is trying to guide those artistes who take the art too far," he said.
According to the Tenda Wema hitmaker, there are a number of artistes who often go over the top in a bid to please their fans and Mutua held them accountable.
"I mean we are allowed to create music and Kenya enjoys freedom of speech but there are times when young people want to take it too far but Ezekiel Mutua was the right person to criticize the likes of Eric Omondi," he added.
Urging the government to reconsider its decision, Ringtone also came to the defense of Mutua insinuating that he gave his best in correcting morals and ensuring dignity is maintained.
Also read: Eric Omondi tells Ezekiel Mutua to apologise and change his ways
On Friday, August 6, 2021, a memo was circulated announcing the appointment of Christopher Wambua as the acting CEO of the board, replacing Mutua.
Wambua served as the Director of Communications and Public Affairs at the Communications Authority of Kenya (CA), a position he ascended to in 2015.
Taking to social media this morning, Mutua who still defending his name, went on to explain that his initiatives to clear out dirty content have never been a personal matter. If anything, according to him, the future of the nation highly depends on the moral foundation.
Also read: Ezekiel Mutua finds himself in a tight spot
"The campaign against dirty content is not a job or a personal matter. It's not us vs them. It's a collective effort to shape societal norms and values through art and entertainment. Our future depends on the moral foundation we build today through our conversations and stories," Mutua tweeted.