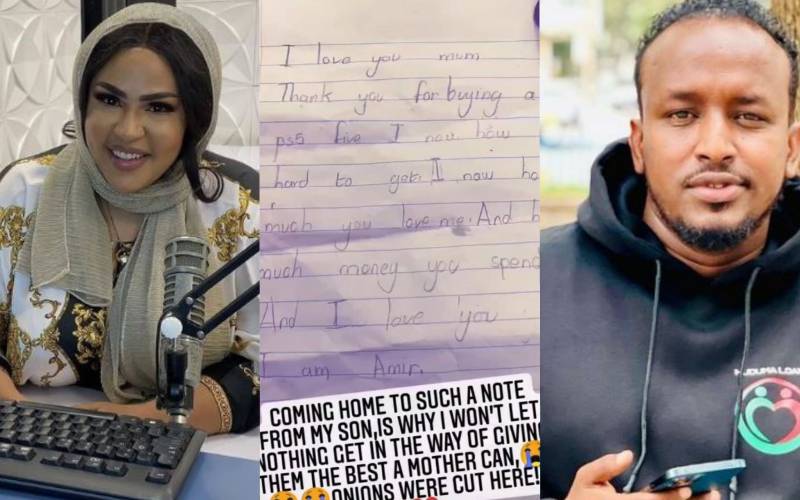 Amira, the first wife of businessman Jamal Marlow 'Roho Safi', has shared an adorable letter written to her by her son Amir, appreciating her for buying him the latest PlayStation 5 (PS5).
In the letter, the charming young man expressed his excitement and gratitude to his mom for going out of her way to buy him the highly coveted home video game.
"I love you mum. Thank you for buying a PS5. I know how hard it was to get. I know how much you love me and how much money you spent and I love you. I am Amir," he wrote.
In response, Amira vowed to always strive to give her children the best life can offer and not letting anything come between them.
"Coming home to such a note from my son is why I won't let nothing get in the way of giving them the best a mother can. Onions were cut here," she wrote.
Co-wife drama
Speaking of protecting her family, the seemingly quiet mother of two recently found herself in a rather ugly situation with her co-wife, socialite Amber Ray, after she was accused of using black magic. 
Also read: Amira, Amber Ray confront each other in Syokimau
According to Amber, Amira tried to cast a spell on her by throwing a dead bird in her compound, a claim Amira strongly denied.
During the confrontation, Amira was heard explaining that she was out for a walk when Jamal together with Amber started accusing her of leaving a dead bird in Amber's compound.
Infuriated by the false claims, Amira began causing a scene whilst trying to defend herself, stating that she does not involve herself in witchcraft. Their argument quickly escalated with Amber hurling insults at Amira.
"I was in the kitchen when I heard her (Amira) call me names, satan, a witch...why did she come to my house? Just because I'm the second wife, I won't sit down and watch her insult me). I never seduced her man. 
"This is my house and this is my compound. I got home late and I heard someone shouting outside my gate. I never went to her place. She came to mine. Kieleweke!" shouted Amber.
Speaking on the matter in a recent YouTube video, Amber maintained that she will not be intimidated by Amira just because she is the second wife, adding that she made no mistake accepting to settle down with the businessman.
"Even if I'm the second wife I have not killed anyone and I have been getting so much hatred and Negative energy from social media and it all because of this. I reached a point I had to stand up for myself. You can't keep on insulting me using my past to make me look bad…As a society I know it is hard to accept second wives but this is what is happening. As much as unakataa kushare, we are sharing," she said.
Amber went on to assure that she is very spiritual and was taken aback after spotting the dead black bird in her compound.
"I got home late and as I was locking the gate I saw a black bird. I immediately asked Jamal to come and see what was happening and it was at this point I called my pastor. He knows how spiritual I am and he (Jamal) asked me to call my pastor…while engaging her I heard someone shouting outside my compound," she added.