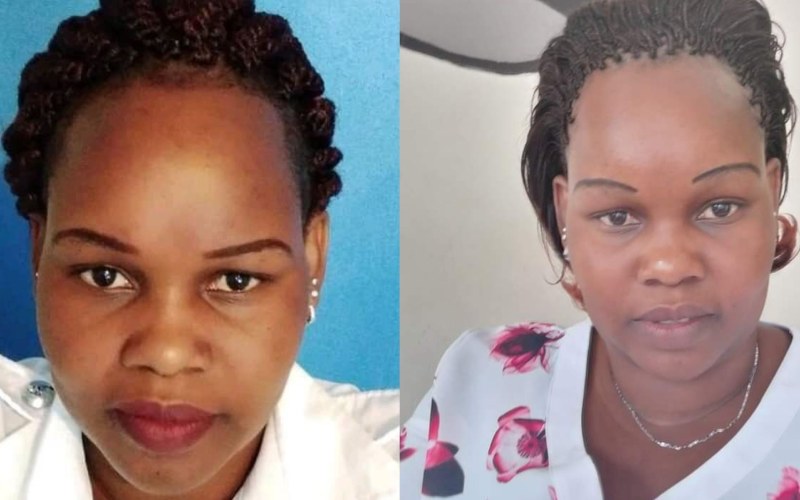 Runaway police officer Caroline Kangogo might be using a unique technique to silence her gun.
This is according to detectives who have launched a nationwide hunt to nab the officer. Kangogo is suspected of killing two men, one in Nakuru and the other in Kiambu.
In both incidents, no one reported hearing a gunshot, something that has left detectives puzzled.
Her first victim was Police Constable John Ogweno, who was found dead in his car at Kasarani Police Line in Nakuru.
Kangogo is believed to have fled with the deceased's firearm, a Ceska pistol loaded with 15 rounds of ammunition.
Her second victim was a 32-year-old man who was identified as Peter Ndwiga, a resident of Juja.
According to CCTV footage obtained from Jogoo Kimakia County Lodge, Kangogo and the would-be victim spent the better part of Monday together, enjoying drinks.
The two later booked a hotel room number 107 at Hotel Dedamax along the Thika Superhighway.
Cameras captured the two at the hotel at around 10pm and records show Ndwiga paid for the room in cash.
Two hours later, Kangogo is seen making her way out and she first walks to the sink to wash her hands.
Later, police were informed that there was a body of a male adult inside one of the rooms.
Upon arriving at the scene of crime, police found Ndwiga's body on the bed with blood splashed across the bedding.
Hotel staff who were on duty on the fateful night have since been interrogated and no one reported hearing any commotion or gunshots during the period the crime was committed.
Kangogo is a well-trained police officer who pursued a shooting range course at Kiganjo and later a corporal course at the same institution.
Also read: Police looking for killer cop who covers herself in a buibui
She has served in four different police stations and her colleagues described her as a social person who also knew how to deal with prisoners.
"Let nobody trust her since she is armed and dangerous. Should you spot the suspect who is covering herself in a buibui, do not hesitate to contact us," read a tweet by the DCI in part.
Related Topics