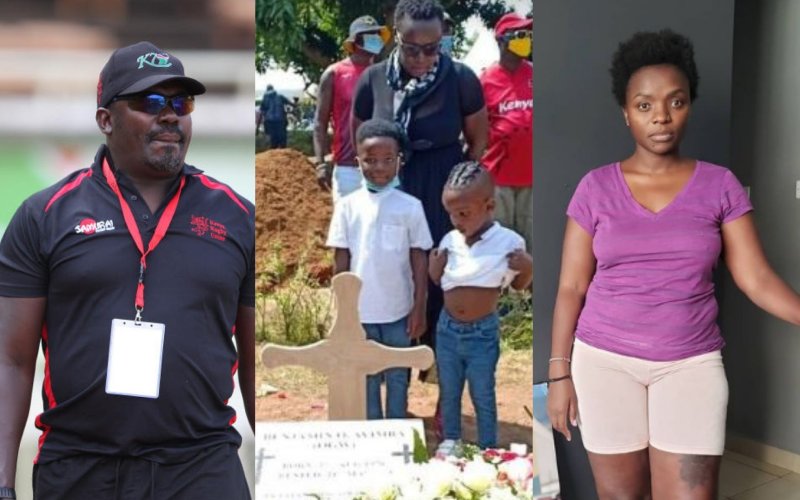 As Kenya's rugby legend Benjamin Ayimba was being laid to rest in his native home in Siaya County, Kenyans and rugby lovers would have wished to see an honorary send-off to the man who made history by elevating Kenya's status on the global map.
On the contrary, drama, tension, and police presence to calm things were the scenes witnessed. According to reports, trouble started when Ayimba's second wife and mother of his two children was denied access to the family home during the funeral.
Through videos shared by Nyaboke's friend actress Sandra Dacha in a four-part series, she narrated the events as they took place. "You bring a whole police force from Siaya to bar her (Nyaboke) from burying her baby daddy?" she stated as she set the camera at a strategic position to capture the unfolding drama.
"Their only mistake was to bury their father. I don't care how I have been treated but I care about how they treated these young superstars. Why discriminate against your blood," she questioned.
She followed this up with a photo of Ayimba's children standing by his graveside. "Irene, you mean you are causing drama in front of these kids just cause you don't want them to have closure with their dad. Benjie jnr kept saying that he just wanted to see his daddy. I took them by the graveside after the ceremony was over but when Irene saw the kids she has been calling b***** and street urchins, I cannot even type what happened. #toxicsistersinlaw."
She further accounts that police who had directions not to give them access to the compound, saw the innocent children and let them in. "I salute Siaya police because they were behind us despite the ill treatment. They let us in when they saw the cute boys."
When word went round about the ensuing drama, netizens immediately flocked Irene Ayimba's social media account hurling unprintable insults.
"So you are the one who tried to stop the kids from the right of burying their father?" read a comment with others using the #sisterinlawfromhell to push the conversation.
The late Ayimba and Moraa had been involved in a nasty tussle following their break up with Moraa accusing Ayiemba of neglecting his parental responsibilities. Ayimba succumbed to cerebral malaria on Friday May 21st. He leaves behind six sons with the eldest being 21 years old.
Actress Gloria Moraa, popularly known as Nyaboke, and the late rugby icon had been in a seven-year relationship that bore them two boys.