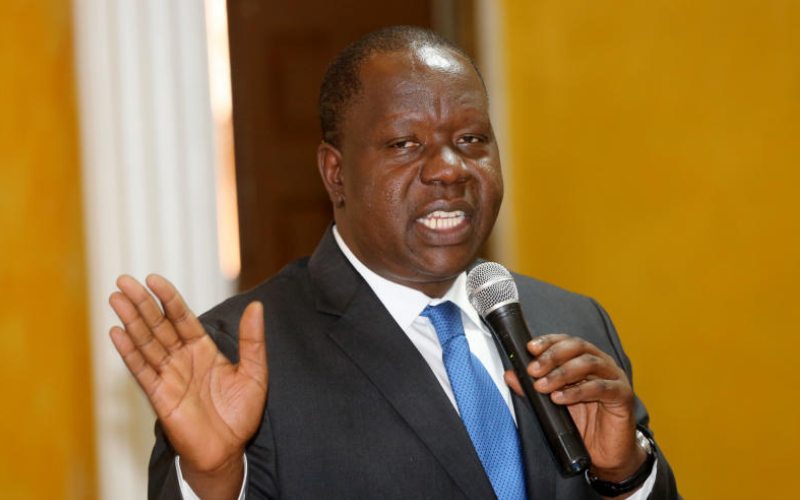 Interior CS Fred Matiang'i on Wednesday stated that the nationwide curfew is set to continue until the end of May. Through a Legal Notice (46), the CS noted that due to the threat posed by the spread of Covid-19, the 10pm to 4am curfew in the rest of the public, excluding Nairobi, Kajiado, Machakos, Kiambu and Nakuru, will remain in effect until May 29, 2021.
"There shall be no public gatherings, processions or movement either alone or as a group during the period of the curfew except as shall be permitted, in writing, by a police officer in charge of the police in a county or a police officer in charge of the police in a division/sub-county," read the notice in part.
As for Nairobi, Kajiado, Machakos, Kiambu and Nakuru counties, the 8pm to 4am curfew will also remain in effect until May 29, 2021, which is 60 days after 29 March, 2021.
The legal notice further listed essential service providers who will be exempted from the curfew;
1. Medical professionals and health workers.
2. National security officers and national government administration
officers.
3. Licensed pharmaceuticals companies, pharmacies and drug stores.
4. Licensed broadcasters and media houses.
5. Kenya Revenue Authority.
6. Kenya Airports Authority and Licensed Civil Aviation Service
Providers.
7. Kenya Civil Aviation Authority.
8. Kenya Ports Authority and licensed sea and port operators.
9. Kenya Maritime Authority and licensed maritime service
providers.
10. Power production and distribution Companies.
11. Kenya Railways Corporation.
12. Kenya Pipeline Company.
13. Water and sanitation service providers.
14. Food and farm produce processors, distributors, dealers,
wholesalers and transporters.
15. Licensed supermarkets, minimarkets and hypermarkets.
16. Licensed distributors and retailers of petroleum and oil products
and lubricants.
17. Telecommunications operators and service providers.
18. Licensed banks, financial institutions and payment service
providers.
19. Fire brigade and emergency response services.
20. Licensed security firms.
21. Postal and courier services.
22. Factory and construction workers.
23. Cargo transporters.
24. Children protection service providers.
25. Operators of safe shelters and safe spaces for sexual and gender-based violence survivors.
26. Advocates of the High Court of Kenya