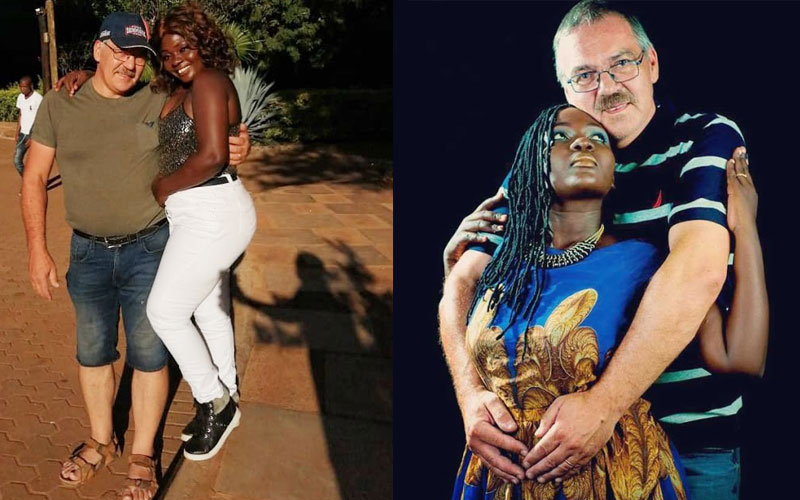 Veteran Coast-based singer Nyota Ndogo has cautioned bloggers against discriminating her husband Henning Nielsen based race. According to the legendary musician whose husband is Dutch, she would rather they referred to him as Nyota Ndogo's hubby. The 'Nibebe' singer narrated how unhappy she becomes when people refer to her husband in relation to his race. Married for close to four years now, Nyota admitted that every time she reads an article with the term "Mzungu" she feels like her husband is being discriminated against. She asked bloggers to shun away from always calling her husband a mzungu in their publications.
"Please bloggers, when you want to write about me and my husband, please write Nyota with her husband and not her white man. But we Africans feel oppressed when we grow up in people's lands and then you are called 'Hey African' you feel like you are being discriminated against but you feel like calling him white is right," she said.
READ ALSO: Nyota Ndogo flaunts multi-million house, thanks Uhuru
Recently, the 'Watu Na Viatu' hitmaker revealed she was struggling to have children with Nielsen. Speaking in an interview, the mother of two said she had visited several doctors to no avail. Nyota also opened up on the challenges of being in an inter-racial marriage, pointing out that adjusting to each other's culture is the main challenge.
"The important thing is understanding each other's weaknesses. We are still trying to adjust to each other's culture. The challenging part is also being married to a mzungu. Many always expect me to help whenever they ask for help and if I don't, they speak ill of me," Nyota said.
READ ALSO: Nyota Ndogo in shock after thieves break into her hotel, cart away goods
The songbird also admitted that she is in good terms with her husband's ex-wife and they talk often. She refuted claims that emerged at the time of her wedding with Nielsen that she was a husband snatcher.
"I didn't steal anyone's husband. He was divorced. His ex and I talk and their children are even planning to visit me soon in Kenya," she said.
In 2018, rumours went viral that Nyota had separated with Nielsen. However, she was quick to point out that the two are still an item and would remain so for the rest of their lives. The rumours were fueled when netizens noticed that she had stopped sharing photos of her husband across her social media pages.