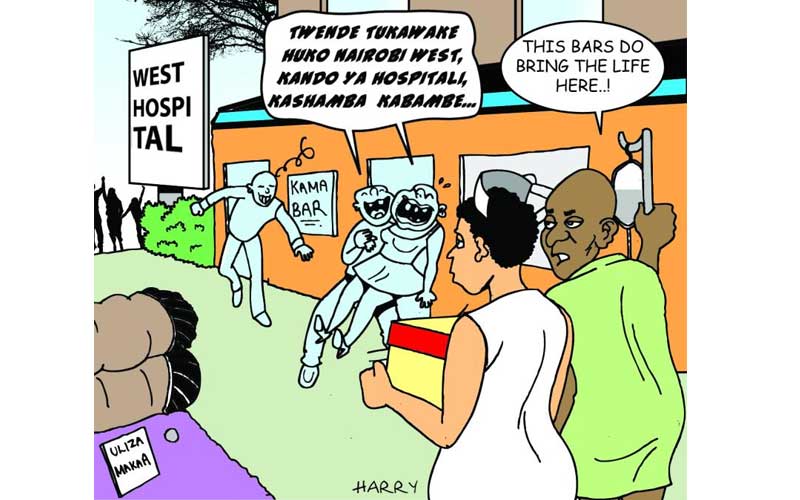 I was at Nairobi West Hospital over the weekend, to visit the ill friend of a colleague.
While the 'hosi' itself was efficient, and the surgeon had done a great job, once I stepped outside of the facility, I realized how 'wannabe' West- as we who were born and bred there - has become.
In fact, it is a microcosm of Nairobi, and maybe the country.
Near the hospital, there are a whole lot of charcoal dealers, yet unlicensed charcoal production from logging was banned by the government two years ago.
This is because logging, mostly for charcoal dealing wannabes, is what is fueling the death of our forests.
All countries ought to have ten percent forest cover, but ours has fallen to an awful seven percent.
And you wonder why, nowadays, it is rainy in January, dry from March to May, and hot in July!
READ ALSO: Seven ways to live and die like a wannabe
Then there are the cheap stalls and liquor dens lurking all around this area, not just to ire of patients and parents.
West sometimes can seem like one big bar, but with streets and sunshine as you wonder about.
One line has Jeans (under renovation), John's, Hardridge, Mini-Pub, Morlins, WH (White House) and Black Oak – seven pubs in a row – like a royal flush in a fast game of Black Jack.
But at least these are stone! Why have millions of illegal stalls, selling semi-illicit substances, on illegitimate municipality land? No wonder we have so many wannabe drunk kids in West.
As well as Wannabe pub owners, as I sat at the nearby 'Plan B' makuti (where they sell the sweetest matumbo in the city, as you sit for a meal with some GK and EPL).
But don't you just despair of those Wannabes who always try to 'one-up' every story you tell?
When it cropped up that I'd once been shot (just next to Plan B) as a teen, and taken for surgery at NWH, this pub proprietor Wannabe says he too was shot once in the calf and taken to NWH.
Someone in the group asked me how Maroc was (they read a travel piece), this dude says he spend December in Dubai and tells us a lot of dubious tales.
Someone else gets a call from a big shot, and as he goes out to receive it, our Wannabe Boastful Drinker tells us he's cut a thousand deals with the said VIP.
When the Man Utd game came on at six pm, he tells us he visits Old Trafford for games at least once a year, yet the Wannabe is in a faded Formula One shirt.
In the way it is with 'intellectual drink wannabes,' the topic went north ... to Stalin as more killer than WW2 hero.
'Shaka slaughtered more than 100 million Africans,' the Wannabe says. 'Stalin's 30 meter is nothing!'
At that point, it was time to leave before utukane wannabe vibaya sana!
READ ALSO: The wannabes: We all have that crazy aunt
Insecurity in the area, especially in the night is there, yet Nairobi West used to be the safest Eden for all revellers.
I decided, out of nostalgia, to take a ride past 'Bombay,' one of those park-closeted crescents very near to where we grew up, so-called because it had a bit of Kenyasians – (and I had a teen crush on an Indian damsel called Sushila Pretti, with whom we must have exchanged a hundred 'Sweet Dreams' novels).
The roads are awful, the bungalows to flats turned, and the playing park is now a car park. WTF?
Of course, all these points to poor leadership, starting at the level of the ward MCA.
For sure someone like the constituency MP ought to knock down many of these illicit dens, clear charcoal dealers, and source for funds from the government to do these roads.
But this isn't an indictment of just our beloved 'Westside,' because even in the East end of the city, things are shitty if not worse.
The number of bars along Umoja's Moi Drive alone tells you the story of a country that is happy letting its youth turn into alcoholic zombies (who cannot organize, mobilise or revolutionize anything).
We need sober leadership, ata kama kwa ground, things are different.
#Viva!
[email protected]
Related Topics