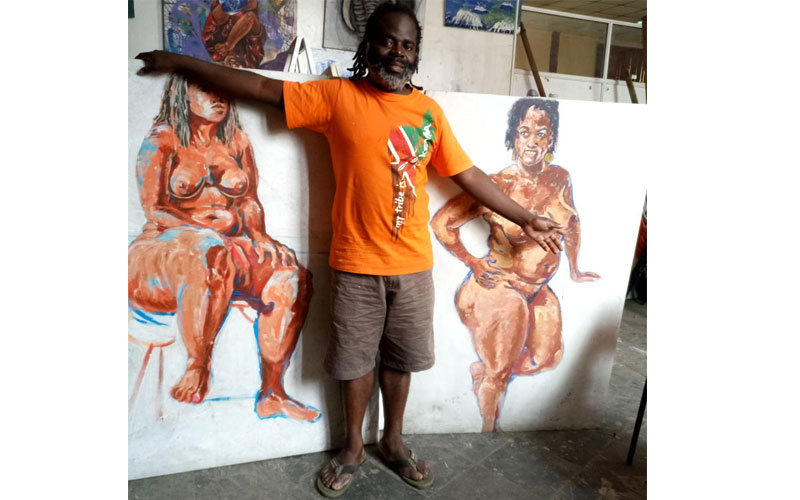 When Patrick Mukabi decided to ditch graphic design for paint and brush, his next move was nude art.
He speaks about his 19 years in the industry
You are clocking 19 years in the arts industry...do you ever get the 'I can't do this' feeling?
Not at all. I started out as a graphic designer but discovered painting, which I have done for the past 19 years. 
I started off at the Kenya National Museum, moved to the GoDown.  But now I am at the Railways Museum and my studio is called Dust Depo.
I basically paint nude people. I have done some work for the Java at Jomo Kenyatta International Airport (JKIA), Naivasha, Nakuru. I have a Kids TV show where I play the character of Uncle Supu. 
Let's talk about your mastery in nude painting. What motivated it?
For the master painters, they say the body is the best Art piece ever! I started this journey after I realised there was no one who was doing 'live' nude painting.
Most painters used photos or videos. I wanted to change the narrative. So, I started inviting models who would pose nude and I would draw them.
Okay. Wait a bit. How would you convince them (models) to pose naked?
When I started, I would approach someone and request them! Of course, it wasn't easy. I would target people at exhibitions. You see, here, you will find art lovers who marvel at nude paintings. Few months later, I had guys popping in.
 Do you handle couples?
Yes. Sometimes, you will find a hubby and wife walk in. But men are a bit difficult. I remember one lady who sent her nude painting to her hubby as a birthday present.
The guy came fuming to my studio asking very, very many questions.
Do you have a criteria when choosing models to work with?
Not exactly. She or he must be comfortable in their own skin. I call them 'cover girls'. I know most plus size are not usually comfortable, but I have a way to make them be at ease.
Women are easier to paint and are more comfortable with their sexuality unlike men.
 Do you every get distracted when you have a naked woman posing in front of you?
Of course I do. I am human. But when I start painting, I view her as an object!
How do you make the models comfortable?
Models are different, some usually tell me that their ears heat up while posing nude while others are very comfortable that they even read a book or fall asleep. The trick is never seeing them undress.
If someone undresses in front of you it makes them feel uncomfortable, but when someone undresses behind a screen and comes out like that, it makes it easier.
Does your wife ever get jealous?
Nop. She understands that this is my work and there is nothing more to it than that.
Do you have classes where you train upcoming artists?
Yes I do. One just needs to enroll. I also go to schools to teach. Last year, I was in Denmark for a whole month.
How are Kenyans embracing your nude portraits?
Well, so far so good. Guys who are elites and educated, are conservative and think my work is crap. Also, the religious ones.
Surprisingly, rural folks love nude work! I was in Busia and Narok and the response was overwhelming.
Does nude painting have any benefits?
Yes. It has a psychological benefit. It can be used as therapy. While painting I am able to interact with the models. They become really vulnerable and open up about things that they are going through in their lives.
It is an outlet to talk about their troubles. Sometimes the models just want to come, talk and go.
What story do your paintings tell?
I just want my paintings to show people that they are beautiful the way they are. And showcase the beauty of Africa.
How much do you pay the nude models?
Sh1,000 for every hour.
How much would nude painting fetch in the market?
I sell them between Sh90,000 – 140,000.
How can we make nude paintings more acceptable in Kenya?
People need to know that Human beings are a form of art. It is just beautiful!  We should not be ashamed of our bodies.