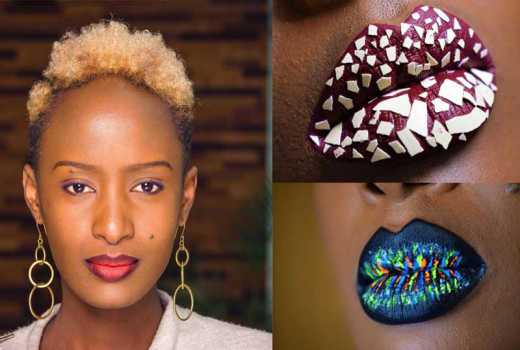 Of all the different mediums, why did you settle for lips?
I was drawn to lips because of the interesting relationships I find that people have with their lips.  There are those who love their lips and those who don't.
Then there are those who are not comfortable with their lips - for some, they are too big or too small or shaped 'funny,' while others simply do not care.
Everyone seems to have a strange relationship with their lips and this got the better of my creative curiosity. Second, what fascinates me most about lips is how everyone has a different set, none are alike.
They come in all shapes and sizes, yet in art work, they are often ignored. They are usually part of art but never the main focus.
 How would you describe this art?
It is the art done on lips. How it is different from other forms is that the lips are the canvas. For you to preserve it, you have to photograph it, unlike the ordinary canvas that is painted on.
I call my art perky, which is also the name of my company.
One of your art collections which has men wearing lipstick got a lot of backlash on social media. Tell us about that.
I am a very abstract thinker and I think a lot of that reflects in my art. When I was doing the collection, I was simply expressing myself.
I had no intention of being controversial. The reaction my art received when I posted it online was however very interesting. It generated a lot of controversy, but a good number of people were able to see the art in it.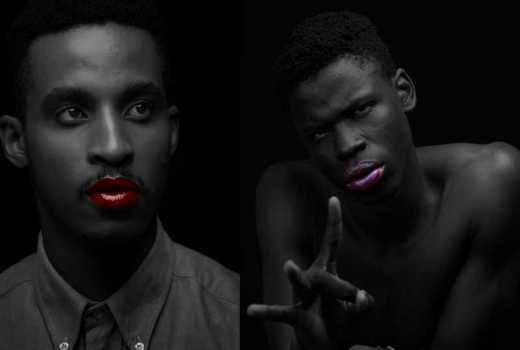 Others thought that it was weird to see a man in lipstick and dismissed the idea as not being manly. However, I do believe the world is changing.
A few years back, men thought it was weird to moisturise their lips and now men do carry around lip balms to moisturise their lips when dry. Who knows, maybe in future, men will be wearing lipstick.
You represented Kenya at the East African Art Biennial. How was the experience?
The East African Art Biennial is an exhibition that showcases the works of East African artists. It happens once every two years.
I had about it last year, and when I investigated, I found that although they had all kinds of categories, even a makeup category, they did not have a lip category.
However, I still applied and surprisingly, my work was among those that were selected. Interestingly, most people still do not understand how I do my art. Others think I use paint or draw, yet I use makeup and a face, plus a photographer to capture the images.
Kenyan artists selected included Victor Binge, Thabitha Mburu, Fatema Quresh and Kezia Nduati just to mention a few.  Our work has now been showcased in Kenya and all other East African countries.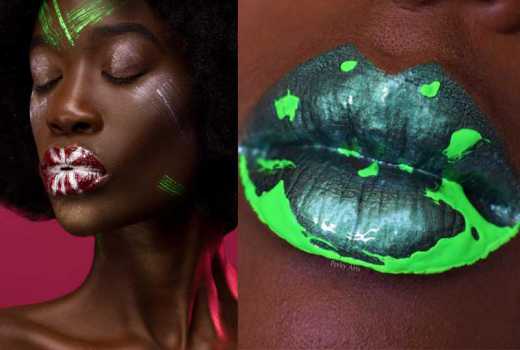 Have you always known that this was a career path you intended to follow?
I got into this by accident.  I studied international business administration (marketing option) at USIU because that was what I wanted to do.
But while in college, I fell in love with makeup. So, after graduating, I decided to follow my passion. I trained with Suzie Beauty and also got people in the local industry to mentor me. So, I became a makeup artist and I am still one.
It was while working as a makeup artist that I became drawn to lips. I began to experiment with lips and discovered that I was very good at doing art on the lips.  Although I am now a lip artist and makeup artist, my degree was not a waste.
I still use my degree to market my art as I sell framed pieces of my art, and my services as a makeup artist.
Any challenges?
People are not conversant with lip art and it's difficult for them to understand it. I have to create awareness about my kind of art.
What do you do when not working?
I love animals and when I get time, I volunteer at a pet clinic.