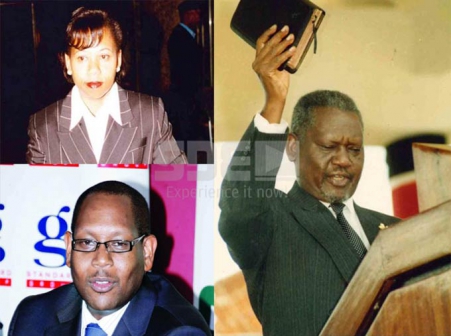 The Kenyan Judiciary is on the spotlight. And few families have provided illustrious learned minds on that front than the family of the late Mathew Guy Muli — which was on the spotlight last year over an inheritance dispute that has since been sandpapered out of court.
Mathew Guy Muli: Alumnus of Alliance Boys and Makerere University Class of 1952, he was Kenya's fourth Attorney General for eight years to 1991. The former High Court interpreter and librarian graduated from Lincoln's Inn, London in 1961 and served as legal adviser to the East African Community before his ascent to High Court judge in 1971, an appointment he termed "unexpected and welcome."
Guy Muli's achievements as AG included speeding up inheritance cases via drafting the Perpetuities and Acceleration Bill of 1985, introduction of building bylaws to facilitate access by the physically handicapped, and birth and death certificates accessible to Kenyans by hiving off the Department of Public Trustees from the AG's office.
But AG Muli was accused of employing legal dictatorship to silence political 'dissidents' who cooled government porridge in jail as Mwakenya suspects, besides influencing verdicts through making prejudicial statements before judges made their rulings. Most ridiculous, however, was tabling a Bill in 1987 to, among others, remove his own security of tenure and that of judges!
Guy Muli was appointed judge of the Court of Appeal in 1991 and later went into private practice. He succumbed to heart attack in 2004 at 75.
Nduva Muli, EBS: Former PS, Ministry of Transport and MD, Kenya Railways, is an alumnus of University of Aberdeen (Land Economics) and Moi University (MBA). He was sued by younger sister Jane Muli in 2014 over family inheritance and the matter has since been settled.
The unsuccessful contestant for the 1997 Kangundo parliamentary seat is married to the Vice Chair of Commission for the Implementation of the Constitution (CIC), Dr Elizabeth Wanjama Muli (PhD, Stanford Law School).
Lady Justice Agnes Murgor: She is an alumnus of Alliance Girls, University of Buckingham and University of London (LLM, International Law). She is currently a Judge of the Court of Appeal. The second born of Guy and Evangeline Muli is a partner at Murgor & Murgor Advocates, which she has run with hubby Philip Murgor (one-time Director of Public Prosecutions) since 1992 and from a Sh200,000 bank loan. Cherono, her first born of three kids, also studied International Business and Commercial Law, University of Manchester Class of 2014.
Related Topics