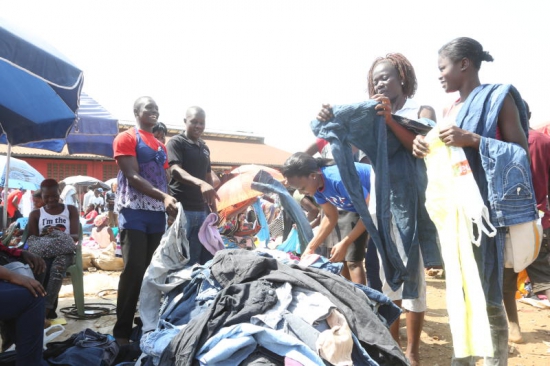 After a few months in Kenya, the expatriate will notice that his clothes have begun to fade, because his daylight hours maid is a Jik addict. Consequently, he feels the need to replenish his wardrobe.
The average expatriate does this by asking his valet to shop online for some bespoke clothes that are then flown into Kenya by private jet. But, from time to time, the more adventurous expatriate might decide to visit one of Kenya's great venues: the mitumba market.
Mtumba is second-hand clothing of a sort that undermines Kenya's own faltering textiles industry. It is imported into Kenya in vast, compressed bales that might or might not be composed of clothing that failed to be sold in what Britain calls 'charity shops' and America calls 'thrift stores.' Or perhaps it's second-hand clothing that was especially collected for export. I have no idea. Probably, nobody has any idea.
Mitumba (plural for mtumba) markets are often, but not always, situated messily on the edges of vegetable markets, much as the Oort Cloud of space debris is situated messily at the edges of our solar system.
The buyer who circles this market early in the day will find the choicest spoils (attractive, designer-brand, high-end trousers, dresses, hoodies, curtains and other such delights), while the latecomer will find nothing but the sun-faded misery of a pair of maternity dungarees that were imported during the Moi regime.
The expatriate may well find himself tempted to buy something, and indeed there are some excellent hats. I once purchased a pair of black leather shoes at a mitumba market, after my own were eaten by a dog at a rural baptism, but my family refused to ever let me wear them, afraid that I might contract some appalling foot fungus from the dead American who had, they presumed, previously owned them. Americans have such terrible foot problems!
There is certainly some mitumba snootiness regarding the purchase of second-hand underwear, and opinion is split on the matter. Personally, I have no problem with the idea, and in fact, have accumulated quite an extensive bra collection during my years in Kenya. At least, my wife is always informed that 'I bought them at the market, dear.'
Mitumba market etiquette is clear and simple, and follows the 'Masaku 7s scrum procedure.' The stall owner stands above his sheet, which is spread on the floor. A square bale of newly-imported mitumba sits in front of him. He takes a knife, cutting open the bale, and the contents spill everywhere.
At this point, every living soul from miles around jumps in and fights for the best pair of socks. The expatriate who is easily swayed by peer pressure and crowd euphoria may find that he jumps in, too. Being weak and easily bruised, this is not advisable for the expatriate. He is instead advised to stick to The Junction or The Village Market, where he can buy what may well be washed and ironed mtumba for a thousand times the price. The fool.
[email protected]
Related Topics