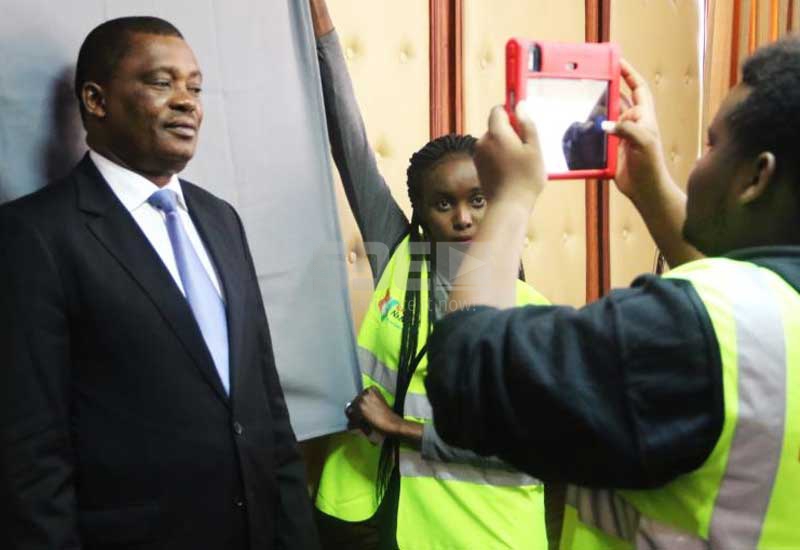 The Government will not extend the deadline for Huduma Namba registration, Interior Cabinet Secretary Fred Matiang'i has warned.
Those who will not have been registered by the deadline on May 18 will have to liaise with their respective assistant chiefs.
However, Dr Matiang'i said, there is no guarantee that they will be registered as fast as it is being done now.
"At the end of the deadline, you will have to look for the assistant chiefs and hope they have time to register you because Huduma Namba will not be a priority at that time," said the CS.
Matiang'i, who was giving an update on the ongoing registration on Monday, said at least 31 million Kenyans had been listed, representing 65 per cent of Kenya's projected population of 47 million.
"The Government is paying each of the recruited staff Sh1,000 for every day they are at work. So if we lose or extend by even a day, it means we will spend a little more money. But as it stands, there are no plans for an extension," said Dr Matiang'i.
Huduma Namba in diaspora
Two more days have, however, been given to Kenyans in diaspora, where the exercise will close on May 20.
Some 154 Kenya Integrated Elections Management Systems (Kiems) kits have been distributed across 54 countries to register Kenyans in the diaspora.
"We have extended time for registering Kenyans abroad because we had to train some officials from the embassies on the Kiems kits," said Matiang'i, who was accompanied by members of inter-ministerial committee overseeing the exercise, among them Joe Mucheru (ICT), Sicily Kariuki (Health), George Magoha (Education) and Mwangi Kiunjuri (Agriculture).
Matiang'i said the committee resolved to review the hours the exercise starts and closes. From today, he said, registration across the country will start from 6am and close at 6pm.
"So those who have not registered have no excuse. Pass by the registration centre before you head to work," Matiang'i said.
He said the Government would not force anyone to sign up. "But you need to be smart enough and get the Huduma Namba so you can have Government services smoothly because for long, we have been depending on paper work with cases of files that cannot be traced," said Matiang'i.