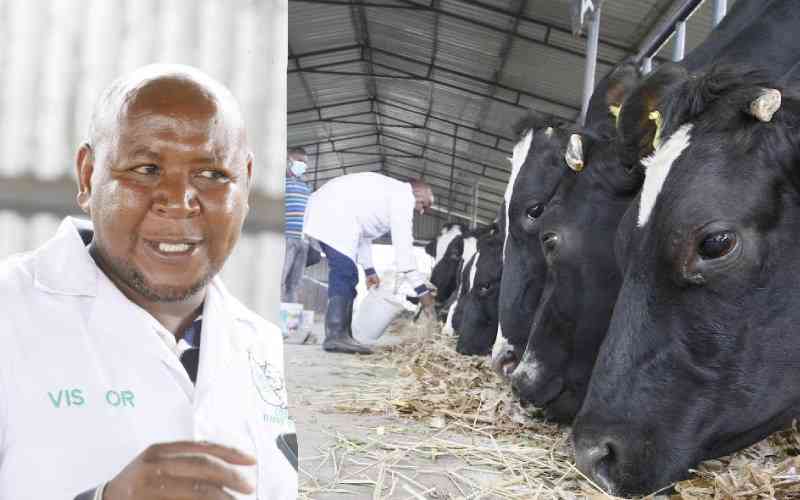 "I started my poultry farm with a feather". This joke captures the dangerous hyperbole of motivational speaking.
In the same vein, we ask: is dairy farming as easy as poultry keeping "where one can start with a feather"?
Before taking a plunge into dairy farming, Thomas Letangule – former IEBC commissioner – did his ground work.
"I visited farms. I needed to understand better what I was getting into. I wanted to know everything: from infrastructure to how the cows are handled," he says.
Letangule went as far as traveling to the Netherlands: a shangri-la of sorts for prospective dairy farmers.
The groundwork alone cost him hundreds of thousands of shillings.
He says he did not want to fail; that he needed to arm himself with relevant knowledge and skills to ensure success once he was in.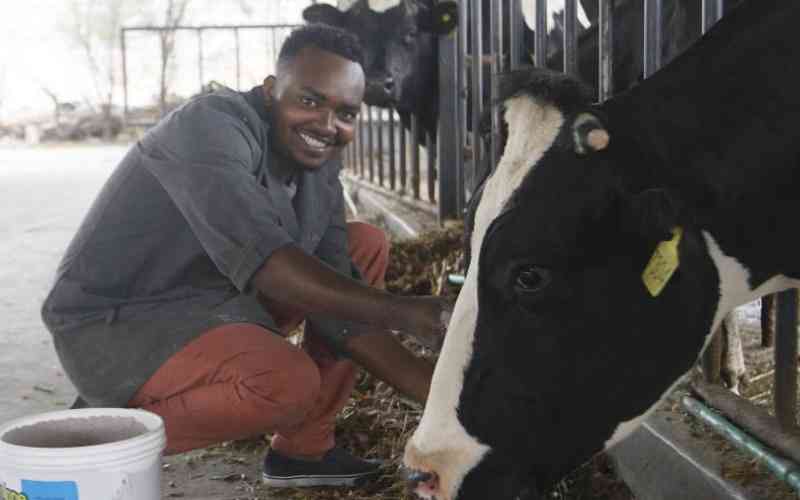 Midway through 2016, Richlands dairy farm was founded.
"I started with a herd of five pure Holstein Friesian cows. Each cost Sh250,000," he says.
Local breeds
Why not buy cheaper local breeds?
"If you are a serious dairy farmer interested in milk production, you have to use breeds built for the job," he says.
Indeed, according to dairy farming expert, Alex Gathii, it is nonsensical to build a commercial dairy farm with local breeds.
Gathii, who studied Dairy Production and Processing at Galilee College, Israel, says: "Any cow can produce milk. Even a Zebu, with good management practises, can produce five litres per day.
"But to be a competitive dairy farmer you need cows with genetic potential for high milk production: Friesian, Jersey, Ayrshire and Guernsey. These produce between 20 and 35 litres per day."
Gathii, who is the managing director of Tanalope Consultancy Ltd, explains that these breeds don't come cheap.
"So, you need some good capital to start a dairy business aimed at profits," he says. "There are no two ways about it."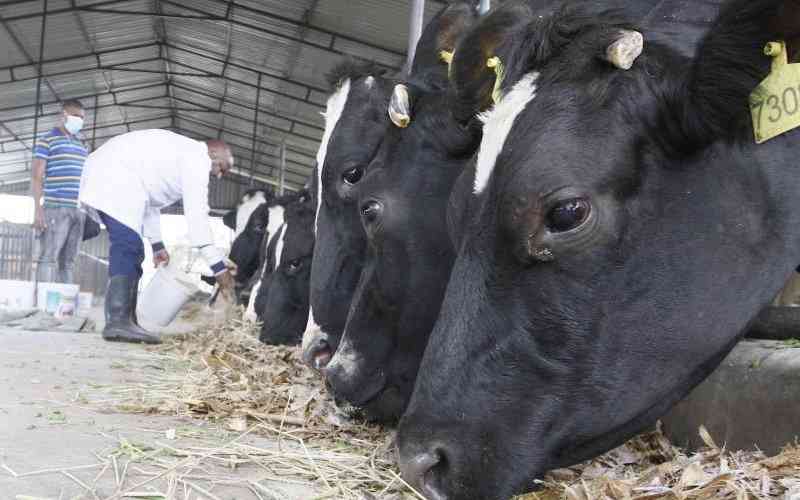 Letangule's Richlands dairy farm, located in Kabarak, Nakuru County, is today an ultra-modern dairy establishment with a fully functional professional milk process.
"We produce and process over 600 litres of milk every day," he says.
The idea, according to him, was to start small (five animals) then grow. Even so, the initial capital ran into a few millions.
In Kihururu village, Gatundu North, Kiambu County, an inspiring story of 30-year-old Margaret Muigai is taking shape. She embodies youthful determination.
Muigai went into dairy farming slightly more than two years ago. She made the decision to go into dairy after months of interacting with other dairy farmers.
"We (my husband and I) had half an acre of land. 'What can I do with this space?' I thought to myself and decided to go with dairy.
A dairy farmer in the neighbourhood was selling a few-weeks-old Friesian calf at Sh25,000. "I negotiated to Sh20,000. And that was the money I used to start."
She fed the calf on fodder from the small farm: saving herself the heartache of buying feeds.
Fast forward: today, Muigai has four animals. The calf has calved twice. In addition, she bought one more calf at Sh25,000.
"I am milking one cow now," she says. "One more cow should be calving in about three months."
Muigai's story might read like a fairy tale. Still, have you noticed she spent Sh45,000 to buy two calves? Put in feeding and veterinary visits (she has had a few), as well as costs of putting up a rudimentary cow burn and she could have easily spent at least Sh100,000.
"How are the profits so far?" we ask Muigai.
"I don't think I am making a profit, yet. Perhaps when I start milking the second cow, I should start realising some profits. The challenge with dairy is that the animals not producing milk need feeding. They therefore eat into revenue earned by the milk producers."
She feeds her animals on fodder she grows in the farm or 'cheaply' outsourced from other farms.
The animals, however, need more nutrients that fodder alone cannot provide. "I have to buy some dairy meal to supplement their nutritional needs. A 70kg bag of dairy meal goes for Sh2,300. I buy a bag every one to two weeks. I also need to buy mineral salt for them," she says.
Dairy farming is intensive and hands-on, says Gathii.
He explains further: "I conduct training for prospective dairy farmers. Lesson number one I make sure they learn that dairy farming is a marathon.
"You need to be patient. You need to have basic training on how to handle the animals. Build the right infrastructure as dairy cows need comfort to thrive.
"It might take a few years to recoup your initial investment. But as long as you are following proper dairy management policies then the profits will come."
That said, Gathii says that for profitability, a farmer ought to be milking at least half of the herd.
"Those producing milk would be able to meet the costs of running the farm. Profits in such a scenario would be anything between 20 and 50 per cent of the production," he says.
As is with most businesses, he says, economies of scale apply in dairy farming too. The larger the herd, the higher the profits.
Letangule's herd has now surpassed 40. He confirms that "profitability increased as the herd grew."
Feeds, Gathii says, is responsible for the bulk of production costs: which vary by production system, scale and location, according to Kenya Dairy Board.
"I am also a dairy farm auditor. My analysis, from hundreds of farms locally, shows that feed accounts for between 60 and 80 per cent of production," he says.
Profitability, he explains, increases when cost of production goes down.
How does one lower cost of production?
"By producing your own feed," he says. "You cannot make a profit if as a dairy farmer you buy 100 per cent of feed."
In this regard, a big dairy farm makes sense. Letangule's farm sits on a 20-acre piece of land.
"The cow burn and other administrative structures take less than two acres of space. We grow maize (for silage), Lucerne, Napier grass and other forages for the cattle in the remaining space," he says.
Market rate ranges
He only buys molasses (for making silage) and sometimes, maize germ.
"Silage, for instance, is really good for feeding dairy cows. When you make your own silage, you spend between Sh3 and Sh5 per kilogramme. When you buy, the market rate ranges between Sh14 and Sh16 per kilogramme. You therefore save a lot: increasing profits," Gathii says.
A dairy cow, on average, eats dry matter content equivalent to 2.5 – 4 per cent of its live body weight per day.
Joseph Kuria, a dairy manager at Cosy farm, located along Kangundo road in Machakos County, says he spends approximately Sh700 to feed one cow every day.
He says: "In 24 hours, one animal eats about 20kg of silage, six kilogramme dairy meal, 150g of concentrates and four kilogramme hay. My calculations, factoring in 100 litres of water and accompanying labour, come to about Sh700 per cow per day."
A clean water source, Gathii says, is paramount in a dairy farm. A single cow can drink as much as 20 litres per session.
"Dirty water is a source of diseases and parasites; which then increase vet visits and hence higher production costs. Dirty water also distresses the cow and lowers its milk production," he says.
Related Topics