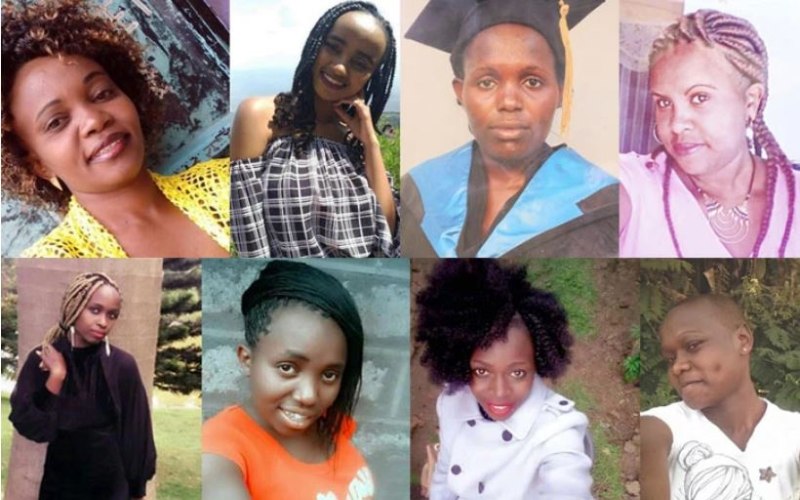 High levels of violence against women and girls in Kenya is an ongoing problem that further increased during the pandemic. While official data records may be incomplete, there is a clear trend of increased violence against women and girls.
Indeed, there has been a startling increase in femicides - the intentional killing of women by virtue of their gender.
According to Reson Sindiyo, a Counselling Psychologist of Resilience Psychology Counselling, femicides are of different kinds, all motivated by different factors.
"Femicide can occur due to domestic violence or violence by an intimate partner. It can also occur because a girl or woman chooses to go against her family's wishes or cultural beliefs," she says.
Lately, the news headlines seem to be of women who have been found dead at the hands of their husbands or intimate partners.
The common denominator is that the victims are all female, only that they are from different counties, cultures, tribes and age groups.
Some of the names of femicide victims that have been plastered across the media in the last year include Mourine Achieng, Margaret Muchemi, Caroline Wanjiku, Jennifer Wambua, and Pauline Wakasa, Catherine Nyokabi, Joyce Wanjiru, Philomena Njeri, Martha Waithera, Agnes Tirop, Kate Mitchell, Caroline Amakove Cynthia Makokha and Martha Waithera.
The above list only covers femicide incidences covered by the media, and so there are probably unreported cases where families have opted to keep such unfortunate circumstances under wraps to shield their families from shame or gossip.
On April 12, the husband of Nigerian gospel singer, Osinachi Nwachukwu, was arrested in connection with her death on April 8.
This is after it was revealed the singer who was often described as having the voice of an angel suffered domestic abuse at the hands of her husband for years and that it was the cause of her timely death.
Netizens went on a rampage, throwing stones at religion and culture for encouraging women to remain in marriages that are a threat to their lives. Osinachi was 42 and left behind four children.
Close home the Kenyan Indian community and friends hit the streets of Nairobi seeking justice for Vanita Senghani, 27, who was found dead in her Temple Flats home, Langata on April 3.
Disturbing images on social media showed Vanita's neck tied to window grills with her feet ironically touching the floor, suggesting that she did not die from suicide. Vanita left behind three children, among them 50-day-old twins.
And on April 19, the lifeless body of Damaris Mutua, 28, who showed much promise as an athlete having taken home many awards over the years in long-distance running, was found inside a house belonging to her boyfriend at Lillies Estate in Iten, Elgeyo Marakwet County.
Her boyfriend of Ethiopian descent, who is still on the run is suspected to be behind her murder.
Dianah Kamande, 39, was married for 10 years before her husband came home one day and tried to kill her and their two daughters. She is a businesswoman and also serves as an Independent Board Director at the Anti Female Genital Mutilation Board on appointment by Prof Margaret Kobia, the Minister for Public Service and Gender in February 2020.
Dianah admits that in the decade they were married her husband never hit her, but on April 19, 2013, he came home with a Maasai sword threatening to kill her, their children and himself. His efforts were futile, except that he managed to take his own life.
Looking back, the widow admits that she survived her husband's attack because of her quick-thinking house help, and the fact that her sister and brother-in-law lived nearby.
"I survived the attack by my husband and got several cuts on my hands and the right side of my breast. I also got 21 cuts on the head and the face. As a result, I have been fitted with five plastic nerves in the head. On my left hand, I have seven metal plates," says Dianah.
According to Dianah although there was no physical abuse in her marriage there may have been red flags.
"My late husband was very controlling and extremely jealous, always wanting to know what I was doing or where I was going. He was insecure and introduced the next move rule, which required me to let him know about my whereabouts constantly. I did not know that this was emotional abuse; in fact, I interpreted his actions as love. He also demanded I withdraw from friends and family. He was moody, angry and silent," she says.
Dianah says she never saw the attack coming and that looking back, she believes her husband had a mental health problem he was unaware of.
"It was one of the darkest nights of my life. I am glad my daughters and I survived the attack," she says.
According to the Kenya National Bureau of Statistics 2014, 40.7 per cent of women aged 15-49 years have experienced intimate partner physical and/or sexual violence at least once in their lifetime.
Another study done by the Kenya National Bureau of Statistics in 2020 found that 23.6 per cent of Kenyans became victims of domestic violence with the introduction of Covid-19 containment measures.
Further, according to the United Nations Office on Drugs and Crimes' most recent homicide statistics, 437 women were reported to be victims of femicide in Kenya.
Reson says that femicide cut across different ages, cultures, ages and social statuses. Anyone can be a victim.
She adds the reasons women stay in relationships where they may feel unsafe are wide and varied.
"Firstly, women often stay because of the domestic abuse cycle of violence. This cycle involves four stages: the building of tension, an incident, the reconciliation and then the calm. Everything is going well, then there is tension - maybe the wife did not pick up his call or she put too much salt in the food. The tension boils and then a violent or abusive incident happens.
When the wife threatens to leave, her abuser becomes apologetic, and will do anything to make her stay, even change for a few days. Here is the reconciliation stage; the honeymoon stage where the abuser becomes the kind of husband you dream of," says Reson.
She says this change is often confusing for the victim. "There is the calm again, and then the tension and the incident, followed by reconciliation. Often, the victims of abuse are confused by their abuser's behaviour. As a result, they find themselves stuck in this confusing cycle."
According to Reson, this circle of abuse has a detrimental effect on the self-esteem of the victim.
"The more a woman stays and lives through this cycle of abuse, the more her self-esteem and self-acceptance are battered, and the more she begins to believe her abuser loves her and that if she changes, she can change her abuser."
She further says another reason women stay with men who are abusive is that they have no social or financial support, hence they are unable to singlehandedly take care of their children.
Reson says that abuse can also be emotional, sexual and financial, and warns that physical violence tends to escalate to femicide, especially when the woman involved in an abusive relationship tries to leave.
"If you are in an abusive relationship and want to leave, carefully develop a safe plan. Where possible, do not inform your abuser of your plans for the sake of your safety. Tell a friend or family member to help you leave," she says.
Related Topics