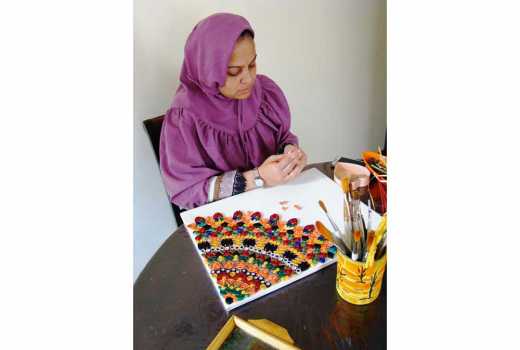 Your work is impressive. Would you describe yourself as a natural?
Oh yes! I am a visual artist predominantly working with paper. My biggest passion is to promote the exquisite art of paper quilling in Kenya. Apart from participating and selling my artworks in art expositions, I also cater for the creative needs of art enthusiasts and art collectors.
Also, being a certified art and home science instructor, I am associated with a number of educational institutions and impart training in different types of art and craft; and teach home science.
I am sure most people don't understand what paper art is all about...
It is one of the most common and effective ways to communicate with the world. Most of my paper-made sculptures and canvas artworks are conceptual or contextual. Through my work, I am able to effectively translate my thoughts through my paper-based artistic configurations.
Paper has been used for centuries in most forms of art.  The art of paper quilling was practiced by nuns in Europe five centuries ago, and goes back to ancient Egypt.
What kind of products do you make?
I create custom-made, two-dimensional paper quilling art creations on canvas, as well as three-dimensional sculptures. Home décor paper quill art objects such as beehives, cages and artistic window murals are gradually being appreciated, as the traditional paint works. 
Greeting cards and décor accessories made from paper quilling are popular as they portray a warm and personal touch.
You were one of the Kenyan artists picked to participate in the East African Art Biennial (2017). That must have been big...
The East African Art Biennial is held every two years and promotes the artistic values and ideals in east Africa. It is a liberal platform for artists working on diverse mediums. It gives African artistry its intrinsic worth.  Further, the not-for-profit 8th edition of the biennial has been traveling under the Moving Art Across East Africa Borders project.
It began in Dar-es-Salaam in November last year and travelled through Arusha, Nairobi, Kampala and is now being held in Kigali, before it proceeds to its final destination in Bujumbura, Burundi. The Nairobi chapter was held last month.
How did you get the opportunity to participate in the East African Art Biennial?
An artist gets an opportunity to participate in the international art exposition once one meets the high standards set by the organisers who clinically scrutinise their submitted artwork photographs. In this edition, there were nine Kenyan artists selected to participate.
Each of us who was selected had unique artistic skills; Joy Maringa's lip artwork and my paper quilling art were the two novel types of art that were introduced for the first time at the biennial.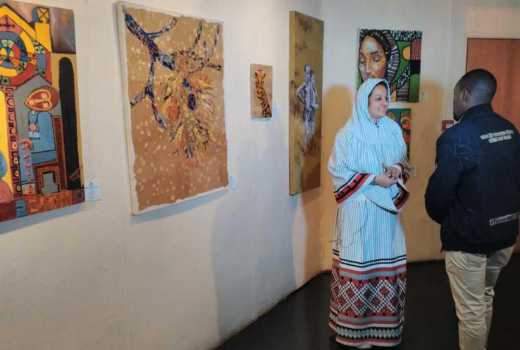 Where did you first fall in love with paper art?
At Burhani Finishing College in Mombasa, a community institute that thrives to this day. It was here where I was first exposed to meaningful art and craft and realised my artistic potential. Though paper quilling came much later, my passion for art was given a course while studying at the institute.
What are some of the challenges you face?
Unlike conventional artists, paper artists are less recognised and acknowledged in Kenya. Moreover, the absence of an organised platform for paper artists makes things more difficult, especially in regard to making it commercially viable and affording us national and international exposure.
Where do you see yourself in the next five years?
I will continue to take life as it comes. This makes my professional and personal life less stressful and more enjoyable. I aspire to represent Kenya and the larger East African community in the world of art. It's also my wish that Kenyans be among the world's top paper quilling artists.