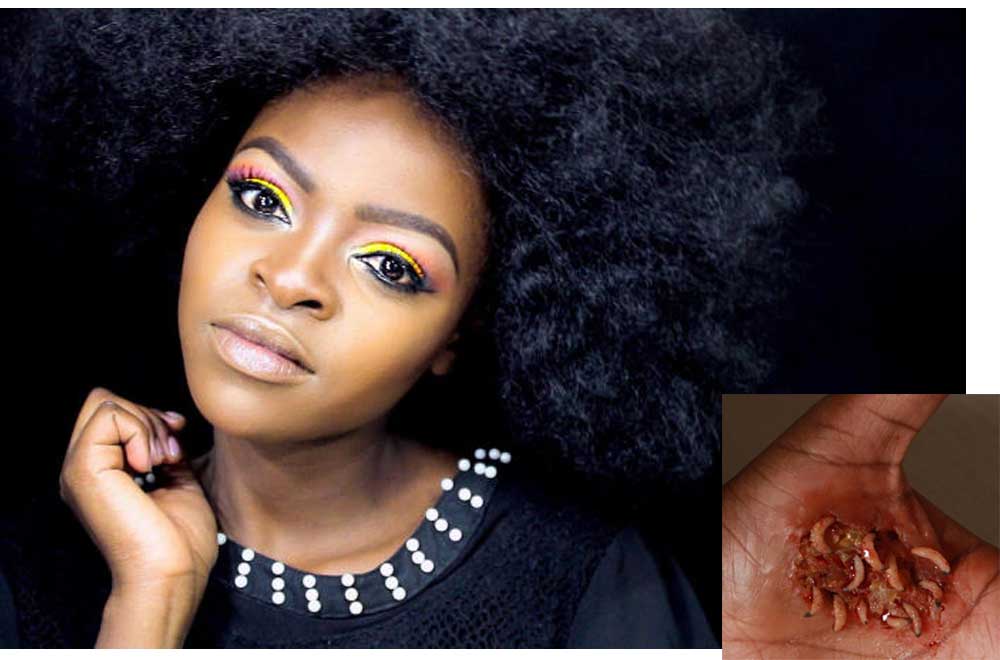 The maggot effects are actually gross. They look so real...
They're made of wax. The creation is known as Maggot Infested Wound. I achieved this effect by making the maggots using moulding wax to create their form and then colouring them to achieve a realistic look.
Then on the palm of a hand, I created the wound using moulding wax and coloured it as well, then placed the maggot moulds in the wound. I finally added some fake blood to complete the effect.
 What inspired you to join this industry?
I've always been drawn to art. Makeup gave me a platform to express my gift. When I started out, I realised that the makeup industry was not confined to enhancing people's facial features, but could also be used as a tool to tell different stories.
That is what inspired me to get into the makeup industry - the ability to become a visual artist and tell stories using this as my medium and the human body as my canvas.
 When did you start doing this?
I started in 2013, working it as a side job until January 2015 when I ventured into it full time.
 How much do you charge?
It depends on the job at hand and what is required of me.
What is your average income per month from this craft?
Let's just say I earn enough to maintain a comfortable lifestyle.
Do you have a mentor?
Unfortunately no. I always wished I could have one, especially when starting out.
So, how did you learn to do this?
I'm a self-taught artist. I'm always researching, learning and practising old and new methods of doing things, though one of my goals is to get certified and advance my knowledge and practice.
 What's your best project so far?
Every project is different and unique in its own way. I rarely repeat set effects, that's one thing that makes my job so exciting. Some of the projects I have been part of have been recognised in different ways.
For example, the short film Watu Wote won an award, while I have seen several others get featured in major publications such as Vogue and Marie Claire
 What challenges have you experienced in this industry?
 Makeup artistry is one career that does not get the respect it deserves. Sometimes it's hard to get clients to pay what you ask for, because in their mind, it is too expensive, even when you cut your quotation to the bare minimum. 
Availability of the products I use for my craft is another challenge. I import most of the products I use, which tends to be time-consuming, especially if you're working on a deadline.
What are your aspirations for the future?
To have an institution where I can teach and mentor upcoming artists. I'm also working towards growing Mdeizi Makeup as a brand, hopefully get to travel around the world doing what I love (makeup).
I would to also extend  amazing  opportunities  to  other  makeup  artists  since  I'm  a firm believer in rising by lifting others.
 Would you be willing to assist someone who wants to be mentored?
 Oh, yes! Actually, I am already doing that. I have a number of artists that I mentor. The fact that I didn't have one when I felt it most needful makes me want to be there for someone else, to help them avoid the mistakes I made while starting out and guide them whenever necessary.
What is your advice to someone who wants to pursue this as a career?
My advice is simple. Start! Self-doubt kills more dreams than failure ever will. So, start with what you have, however small it is. Just start. The journey of a thousand miles begins with a single step. Endeavour to grow, always learning something new and practicing what you learn.
Your greatest source of clients will always be referrals. Do a good job and you'll be hired again. Talk to people in the industry who are already succeeding and attend as many makeup workshops as you can. Then create your network and don't settle. There is always room for growth.